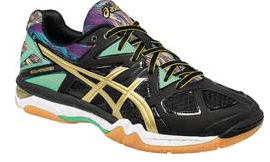 Asics America Corp. has partnered with beach volleyball star Kerri Walsh Jennings to launch the Kerri Clubä collection, an apparel and footwear line designed for high-school indoor volleyball clubs. The eight-piece collection includes jerseys, a warm-up jacket and pants, shorts, socks, shoes and a backpack. Select clubs from across the country will debut the collection in the 2016 club season. The collection features a special Kerri Clubä color design of the GEL-TACTICä shoe, available now.
Walsh Jennings, who has been an Asics elite athlete since April 2014, is a three-time Olympic gold medalist and beach volleyball powerhouse. Standing tall at 6'2", she remains a dominant force in the sport and is in search of her fourth consecutive gold medal in Brazil.

"Kerri is not only an inspirational athlete, but also a role model for so many in the sport of volleyball," said Kelly O'Rourke, athlete manager, Asics America Corporation. "She truly embodies the Asics spirit of resilience, sportsmanship and commitment to her craft. We wanted to celebrate her continued success with a special line of apparel and footwear that represents her unmatched physical training and great style."

Walsh Jennings played a major role in the development and design of the collection, from the gold logo and accents to the braid pattern featured throughout the line. The focus of the collection is the peacock print which can be seen throughout the line. Asics America Apparel Designer Ray Coates developed this print from studying Jennings' Pinterest boards and artwork that inspired her most.

"I'm so proud of the Kerri Clubä collection and to have volleyball teams across the country wearing the line truly inspires me," Walsh Jennings said. "I got my start on the indoor court and it is so exciting to see the next generation competing in the collection. They are the future leaders of our sport and I am thrilled to partner with Asics to help move the sport forward."

Volleyball clubs debuting the Kerri Clubä collection nationwide include teams based in CA, DE, FL, HI, KS, OR, TX, and UT.