When Kanye West and Kim Kardashian launched Kids Supply, their own streetwear-for-tots label, they lent celebrity sparkle to the growing trend.
Hypebeast, the men's streetwear site, branched out this summer with a dedicated childrenswear vertical called Hypekids – and it's not alone. Brands looking to cash in on the mini-streetwear trend include Bape Kids, Little Giants, Haus of JR, Mini Rodini, Akid and Hey Babe L.A., as well as mainstream brands such as Nike, Adidas and Uniqlo.
But the real story here happened when power couple Kanye West and Kim Kardashian took notice and launched Kids Supply, their own streetwear-for-tots label, in May. The apparel is made using fabrics in Kardashian's native Calabasas and includes bombers, hoodies and slip dresses. The latest drop featured customizable Yeezy sneakers that promptly sold old.
Hypebeast CEO Kevin Ma stated at the time of the Hypekids launch, "Our readers who have become parents have expressed a desire to share and spread their passion for fashion and youth culture to the next generation." He added that stylish parents' increasing desire to post photos of their well-dressed children on Instagram and Facebook was another factor.
Though technically outside the streetwear category, children's e-commerce site The Tot sells a wide range of luxe sportswear and shoes to meet consumer demand, including sneakers by People Footwear and Akid. The Tot Co-founder Nasiba Adilova, who has two boys under the age of four, started the site in 2015 to cater to the up-and-coming childrenswear market. And then there's the newly launched Maisonette, which was formed by two ex-Vogue staffers.
According to data from Euromonitor, the value of the U.S. childrenswear market increased by 14 percent between 2011 and 2016, making it worth $31,570 million by the end of last year. It's slated to grow another 8 percent by 2021, to a value of $34,069 million.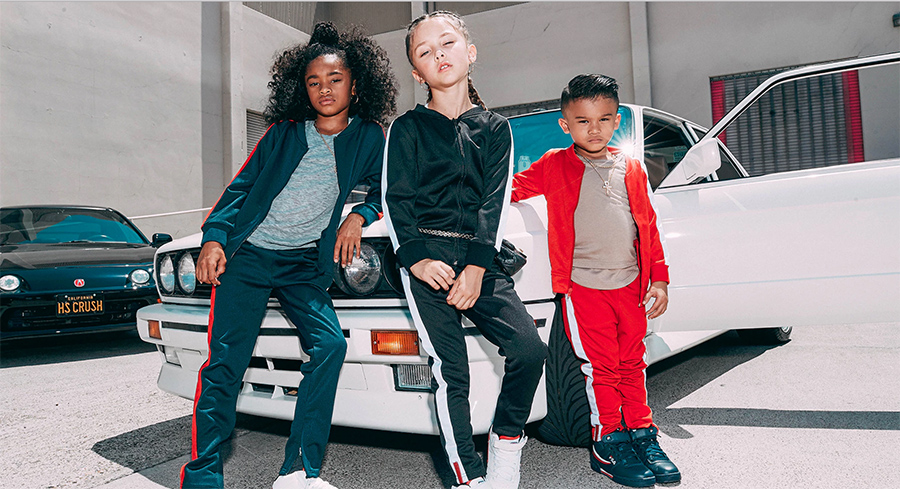 "Streetwear garments that mirror adult trends are seeing particular movement and investment" in this space, according to Katharine Carter, a fashion and retail analyst at Edited, which has seen a 20 percent increase in arrivals for children's bomber jackets over the last six months compared to the same period last year. Average prices increased by an eye-popping 63 percent, an indication that luxury players like Balenciaga are getting involved. This mimics a 46 percent increase in bomber arrivals for adults.
The same pattern can be seen with sweatshirts, which increased by 44 percent for kids and 60 percent for adults in the same period.
The market has definitely blown up, said Ivan Rivera, who co-founded the Little Giants clothing line with his wife, Khrysti, in 2013. Rivera noted that Kim and Kanye's recent endorsement alone has lent momentum to the trend. "Everybody and their mom is going to want to do kids' streetwear, just because they see them doing it," he said.
Photos coutesy Kids Supply, Little Giants, Hypebeast Kids