Arc'teryx Equipment, long admired for the style and fit of its technical outdoor apparel, entered the footwear business last week with a line of technical performance shoes built using a two-piece construction method the brand says enhances performance.


The shoes consist of an inner liner and outer hydrophobic shell. While a two-piece construction method has been used for years to make ski boots, it is used less often by preformance footwear companies. Arc'teryx said the design allows for better fit adaptability, breathability and weather protection and is marketing the design under the phrase "Arc'teryx Adaptive Fit"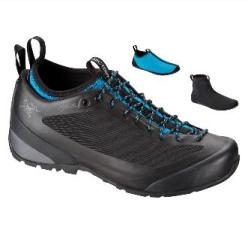 The line consists of men's and women's versions of a low-cut approach shoe called the Alpha LF (show to the right) and a mid-cut hiking and light trekking boot called the Bora Mid. In the top-of-the-line Alpha2 FL and Bora2 Mid styles, the liners are completely removable and interchangeable for improved wash and dry-ability and to extend the use and climate adaptability of the shoes.
Arc'teryx, which pioneered thermoforming and lamination in the manufacture of technical outdoor apparel, said it spent four years developing the materials and technology needed to make the shoes in-house. Some of the construction methods are so new that company had to make custom production machinery to manufacture the shoes.

"From the very beginning, our goal was to bring a fresh perspective to footwear that enhances the overall mountain experience," said Federico Sbrissa, Arc'teryx Footwear Product Line Manager. "Everything about these shoes revels the Arc'teryx genetic code of understanding what a products needs to be at its most essential level."

While Arc'teryx is new to the footwear business, it is part of Amer Sports Winter and Outdoor segment, where footwear sales grew 9 percent in 2013 to reach €341.2 million. The figure includes sales by sister brand Salomon. Amer Sports, which is based in Finland, announced in 2010 that it would increase investment in softgoods as part of a long-term strategy to enhance margins. Black Diamond Inc. and Remington Outdoor Company have since followed suit as have the eyewear brands Oakley and Costa.