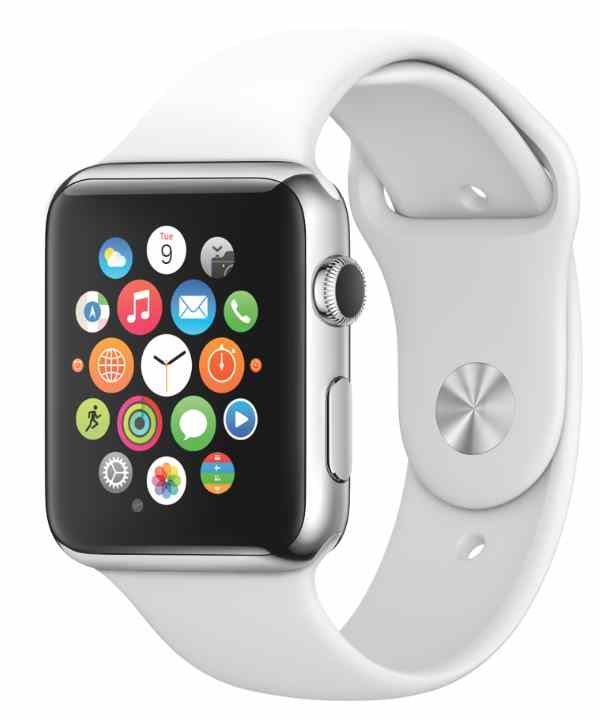 With Apples launch last week of the Apple Watch, the spotlight shines bright on the wearables category. Its pending arrival next year potentially provides a boost for the hyped but sleepy category while also possibly spelling trouble for the many big and small smartwatch and fitness trackers already targeting the opportunity. The Apple Watch is the first brand-new product category for Apple since the iPad in early 2010 and also the first since Tim Cook succeeded the late Steve Jobs as Apples CEO.
As shown in the past with the iPod, iTunes, iPhone and iPad, Apple has proven its able to spark whole new categories of technology and turn them into mass-market phenomenons. At the same time, it tends to dominate those categories in short term.
On the fitness side, the Apple Watch tracks how many calories you burn in a day, as well as how many minutes you exercise and how long you stand. It also has a heart-rate monitor and includes a workout app that tracks the speed, distance and duration of workouts.
"Being more active is one of the best things you can do to improve your health, and Apple Watch gives us the ability to motivate people to be more active," Cook said at the Apple Watch unveiling in Cupertino, CA that included a performance from U2.
Apple also mentioned that Nikes FuelBand technology would be available in the Apple Watch. Earlier this year, Nike reportedly decided it would not be making new hardware for the FuelBand and instead focus exclusively on fitness and athletic software.
Apple Watch also enables users to communicate in new ways right from their wrist by sending and receiving messages, answering calls to their iPhone, and with Digital Touch, sending something as personal as their own heartbeat.
The Apple Watch wont be available until early next year and starts at a pricey $349.
"It's worth the wait," Cook said. "Apple Watch is the most personal device Apple has ever created."
Apples entry comes as many are questioning whether the hyped smartwatch and fitness tracker category will ever take off. Beyond Nike, Adidas and Under Armour, the category has attracted major electronics companies like Sony, Motorola and Samsung; veteran watch and monitoring specialists like Timex, Suunto, Polar and Garmin; as well as countless start-ups like Fitbit, Jawbone, Pebble, Mio, Soleus, Perfect Fitness, and Withings.
The opportunity has so far largely skated past the athletic retailers that are often best positioned to capitalize on any fitness craze. Best Buy appears to be the biggest beneficiary but Wal-Mart and Target carry a wide selection of activity trackers from most brands and even department stores are carrying some.
With a CNN report noting that only about 14 million fitness bands and activity trackers and about 2 million smartwatches were sold globally over the 12 months ending this past March versus 964 million smartphones, many are wondering if wrist wearables will ever go mainstream.
Beyond the need for the instant-communication access on a wrist, some believe activity tracking only appeals to the fitness nut. But others see a strong tie-in to the burgeoning health & wellness movement and Apples arrival certainly supports the categorys growth prospects.
Forrester Research expects Apple will legitimize and lift the wrist-based wearable tech market, where less than 10 million devices have been sold in the U.S. According to new Forrester data, 25 percent of American adults plan to buy a wearable device in the next year, and 42 percent are interested in a wrist-based device.
At the same time, Forrester expects that by 2016, Apple will dominate the market, much like Apple's takeover of the MP3 and smartphone markets in 2001 and 2007 respectively.
As it has done in the past, the tech giant didnt rush to be first to market with its product. It is counting on superior design, brand equity and marketing muscle to drive sales past established rivals in the space. The Apple Watch generally garnered praised for its sleek design, user experience, functionality and ease of use.
Some also feel that consumers will eventually prefer a multi-purpose smartwatch that can handle many functions in addition to activity tracking rather than needing a host of different wearables serving distinct purposes.
Apple could sell between 15 million and 20 million units in its first year, estimated Cowen & Co. That compares with the 6.3 million wearables sold globally in the first half of 2014, according to Canalys.
Still, others saw ways others could coexist and even thrive. To many, the $349 price was seen as lofty compared to the $100 to $150 someone with only an interest in activity tracking would pay for many fitness monitors. The battery life wasnt given but is expected to need a daily charge given its dense features and size. Some smaller fitness trackers last a week.
Apple Watch also doesnt have the ability to track sleep, a popular feature in many fitness wearables. Although waterproof, you cant shower with it. The fact that you need an iPhone to use most features was also a critique.
Fitness monitor makers were generally enthused that Apples entry may spark further interest in wearables. That could even help draw demand for the more specialized models that serve the ardent sports enthusiast and found in sporting goods channels.
But several vendors took issue with the notion that the appeal of the multi-purpose smartwatch would make a more single-purpose, activity tracker irrelevant.
Fitbit founder and CEO James Park believes that one size doesnt fit all, and Fitbit offers the widest range of all-day trackers and price points to fit consumers varying needs and lifestyles. Fitbit trackers are optimized for long battery life and last from seven to 10 days to six months, depending on the tracker.
He also told recode.net that Fitbit is widely accessible on the most platforms, including over 120 iOS, Android and Windows devices. The Apple Watch, on the other hand, will only work with newer iPhones.
In a statement, Fitbit noted that it has 70 percent market share in the connected health and fitness space overall and has been a trusted brand for the past seven years. Still, it ended up welcoming the new competitor to the space.
"Our mission remains empowering and inspiring people to lead healthier, more active lives, and to that end we welcome new products and services like Apple Watch into the market that help further that mission," Fitbit said in its statement.
Garmin likewise doesnt believe that there is a one-size-fits-all solution for the wearables market, especially in the active lifestyle segments that Garmin serves.
We expect to see a wide variety of products, ranging from multi-purpose to more specialized wearables that are tailored to specific needs, use cases and consumer segments, said Amy Johnson, media relations associate, fitness, at Garmin International, to SEW.
Johnson said Garmins wide range of wearables are purpose built for activities such as running, hiking, mountain climbing and swimming. Each one is customized for use cases and has different design and hardware features to provide the best possible experience to users. The differences range from battery life, ruggedness, weight and more.
For example, our Fenix 2 outdoor watch has a rugged design, is waterproof to withstand elements, has a sunlight-readable transflective display, offers 50 hours of battery life in GPS mode, and has built-in sensors such as an altimeter, compass and barometer which are all ideal for adventurers off the beaten path, said Johnson. In comparison Vivofit and Vivosmart are designed for 24/7 wearability and comfort to track daily activity and help build lifelong healthy habits.

In the same vein, one major trend Suunto has identified is that sports participants seem to go after a myriad of different activities instead of just practicing in one single sport. That calls for versatile sports watches suitable for many different activities.
For example, Suuntos new Ambit3 Sport is a great all around watch for different activities, but also including specific modes and measurements for running, cycling, swimming or triathlon, said Olli Osara, regional commercial director, Suunto Americas. Ambit3 Peak is of course even more versatile with all the outdoor functionality added. In addition, with the Suunto Apps, consumers can build their own apps or choose from the hundreds of already available apps to tailor the watch for their individual needs to whatever sport they want to engage in.
The other important trend Suunto is noticing is the experience collecting and sharing in social media. Said Osara, Suunto Movescount mobile phone App offers a great way to showcase your Move to your friends on social media. By creating a Suunto Movie you can visualize your route on a 3D map, which includes key metrics, and you can add photos from your adventure to tell the whole story instantly.
Jawbone published a blog post welcoming Apple into the wearables category and insisting that its good news for us – because it is another device that will connect to our Up system, Jawbones activity-monitoring software available through its app.
Travis Bogard, Jawbones VP of product management, went on to write that the company plans to launch a new version of its Up app that allows anyone with a compatible smartphone, Android Wear device, Pebble smartwatch, or any wearable connected to the Health app for iOS 8 – such as the Apple Watch – to instantly join the Up community.
Bogard added that Jawbone remained committed to creating some of the most stylish and sophisticated wearable devices on the planet. But he added, Our vision is not about winning a hardware arms race, or just moving more units than the other guys. Its about people, and the thing we all cherish the most-our health, and the health of our family and friends. By opening UP to everyone we have the best chance of realizing our vision.
But most were more encouraged that Apple may drive mass appeal of the wearables category and draw attention to the fitness benefits than worrying about any direct competitive threats.
Were excited to learn more about any innovation that has the potential to encourage more people to improve their health and fitness, Herb Baer, president of Polar USA, told SEW. As a pioneer in personal heart rate, fitness and sports performance technology since 1977, this has always been integral to our mission at Polar-long before 'wearables was a buzzword. As our industry evolves, this is yet another milestone for people who are learning how they can benefit from more and better fitness data.
"The market is building, it's defining itself," said Shawn Cummings, senior director of innovation at Timex, which is releasing the first smartwatch that offers stand-alone wireless connectivity without a phone. He told the San Francisco Chronicle. "Having a large company come in really improves and helps build awareness for all consumers."
Pebble CEO Eric Migicovsky told Bloomberg that Apples entry into wearables is a massive validation of the space. He added, Our feeling is that smartwatches and wearables are the future of computing and theres a lot more work left to do.
My opinion is that it brings MUCH more attention to the category and consumers will start to understand the benefits of the fitness side of the business, David Arnold, founder and owner of Soleus, told SEW regarding the Apple Watch launch. I think the Apple Watch will be a big success, but not necessarily to our consumer. It is a bit more expensive, thus appealing more to the tech consumer versus the fitness or active consumer. Do not get me wrong, from what I have seen of the Apple Watch it is very cool and I would like to have one, but not necessary for my fitness activities.
Arnold believes industry are in the early stages of discovery in the fitness tracking or wearables category. He expects Apple, along with other major players like Sony and Motorola will bring a large awareness to this category and lead to ultimate growth, but he still sees the opportunity with those brands that can align themselves to be sold with and to fitness channels. He does see prices heading lower as the crowded market inevitably undergoes a shakeout.
A few players made this an exciting category and now most every major fitness brand has come out with a product along with a number of other lesser known brands, said Arnold. I do see a shake out in these brands as the price point will ultimately fall due to competition and liquidation of brands, thus driving the price point down.
Alden Mills, founder of Perfect Fitness, a division of Implus Corp, likewise believes Apples entry only confirms the huge demand and need on the consumer side.
Our company was founded on the premise that if you take control of your body, you can take control of your life, Mills, a former Navy Seal, told SEW. The wearables market is all about understanding what your body is doing and we view this as an important step of the process to achieving your goals. We dont anticipate a huge impact on our business yet, as the price point is so high. We are focused on product solutions that offer great quality and value. Based on all indicators, the market will continue to grow with opportunities not just for fitness enthusiast/athletes, but in healthcare as well.