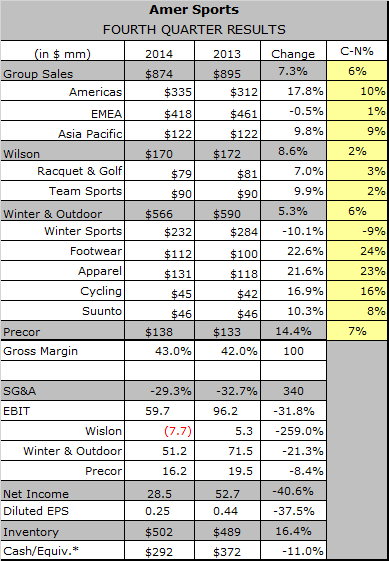 The Americas, and to a lesser extent the Asia Pacific, saved Amer Sports fiscal fourth quarter. The Finnish sporting goods company reported that sales in the Americas and the China grew 17.8 and 9.8 percent respectively, helping offset a 0.5 percent decline in EMEA, where the late start to winter and the plunging rouble made for a challenging quarter.
The performance resulted in the company's fifth consecutive year of profitable growth with record sales and operating profit.
"The key drivers behind the improvement were our strategic acceleration areas: Apparel and Footwear, Business to Consumer, and China," said President And CEO Heikki Takala. "We also continued to drive profitable growth in Fitness, Cycling and Sports Instruments."
Strong U.S. sales growth also played a role. The Americas accounted for 82.5 percent of revenue growth during the quarter, thanks largely to a standout performance by Amer Sports Winter & Outdoor (ASW&O). ASW&O Americas, which is run from Ogden, UT, generated sales of $129 million, up $19 million, or 16.6 percent, from the fourth quarter of 2013. While Amer Sports does not report regional financial results for the segment's five business lines, its global results indicate most of the growth in the Americas likely came from Arc'teryx and Salomon apparel and footwear.
ASW&O Footwear sales reached $112 million globally, up 24 percent c-n, while Apparel sales reached $131 million, up 23 percent c-n. Cycling sales, which consist primarily of Mavic wheels and components, grew 16 percent c-n to $45 million, while Sports Instruments, which consists of Suunto smart watches and other devices, reached $46 million, up 8 percent c-n.
The Fitness, or Precor, segment turned in the strongest global performance by turning in double-digit c-n growth in all three regions. Global sales grew 7.0 percent c-n overall thanks to growth of 13, 14 and 24 percent respectively in the Americas, EMEA and Asia Pacific .
Even the Wilson/Ball Sports segment, which is undergoing a major restructuring, helped counter the poor ski season in Europe thanks to the strong dollar. While the segment's c-n sales increased just 3 percent to $119 million in the Americas, that translated to an 11.9 percent increase in euros. The segment earned 70 percent of its revenues from the Americas during the quarter.
"Encouragingly, the Ball Sports restructuring started to yield results with gross margins up, and operating expenses reduced and refocused to support the new strategic growth pillars," said Takala.
Amer Sports was able to grow operating profit 3.8 percent during the quarter by improving gross margin 100 basis points (bps) to 43.0 percent and shrinking SG&A expense to 29.3 percent of sales from 32.7 percent. Increased sales in local currencies lifted EBIT before non-recurring items by approximately €16 million, or 20.6 percent and gross margin by approximately €7 million, or 2.3 percent.
"Thanks to our flexible operating model in Winter Sports Equipment, we managed to mitigate the impact and sustained a satisfactory profitability," Takala said.
EBIT declined 40.6 percent, however, to €23.0 million ($29 mm) after Amer Sports recorded €34.7 million in non-recurring charges related primarily to the restructuring at Wilson.
The company issued guidance for 2015 that calls for c-n net sales and EBIT margin – excluding non-recurring items – to improve from 2014 despite the adverse impact from the late and mild winter and on-going risks in Russia.