Keen Footwear congratulated its brand ambassador Rue Mapp on her appointment as a Commissioner of California State Parks. Rue, founder and CEO of Outdoor Afro, has been a Keen ambassador since 2012 and brings years of outdoor, conservation, and recreational experience to her new position where she will inspire and educate the people of California to protect its lands and create opportunities for high-quality outdoor enjoyment.
"These are exciting times," said Rue, a resident of Oakland, CA. "We have untold stories in these parks that I want to unveil to get people excited. I am so grateful to do this kind of work that will bring health to our people and our planet."
As Commissioner of California State Parks, Rue will work closely with the Director of California State Parks to study the state's 279 parks, beaches, trails, and open spaces, and work togeth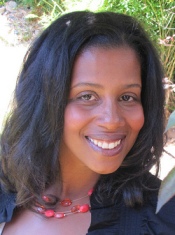 er to encourage stewardship of California's natural beauty and culture while increasing outdoor engagement.
"The California State Park and Recreation Commission welcomes Commissioner Rue Mapp," said Diane Whittenberg, the Chair of the California State Parks Commission. "Her dedication and enthusiasm to connect people to the outdoors is admirable. We hope to use her experience and ideas to connect more outdoor enthusiasts to California's state park system.
Rue's passion for the outdoors began in her childhood years growing up in California's parks. Her outdoor enjoyment continued into adulthood and ignited the foundation of Outdoor Afro. Founded in 2009, Outdoor Afro is a social community that reconnects African-Americans with natural spaces and one another through recreational activities. In 2010, Rue was invited to the White House to participate in the America's Great Outdoors Conference where President Obama signed an historic memorandum to help reconnect all Americans to the great outdoors.
"Keen has been with me from the very beginning of Outdoor Afro and has given us the platform to tell our story," said Rue. "Keen is not only a phenomenal footwear company, but a change agent. Being connected to a brand with a great reputation has definitely opened doors and got people to listen to us in a different way. Outdoor Afro is about helping people take better care of themselves, their communities, and the planet, and Keen has been a tremendous advocate of its mission all along."