Adidas unveiled the first product to be created at its Speedfactory facility in Ansbach, Germany.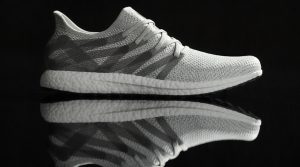 They're calling it the Futurecraft M.F.G. shoe and using it to show how the Adidas Speedfactory will have the capabilities to create footwear that is highly specific to fit and functional needs of the consumer — highlighting a trend toward enhanced individualism within the sports footwear and apparel categories. The factory should also allow for faster design adjustments if needed.
The newly released Futurecraft shoes made from the Speedfactory will be part of Adidas Running and will be an initial test from the company, with the view of rolling out to other categories in the future.
Vice President of Strategy Creation at Adidas James Carnes said, "With Speedfactory, we have an industry-changing innovation that can be placed anywhere in the world – taking the lab to the street. It gives us the opportunity to combine unique manufacturing speed with the flexibility to rethink conventional processes. The starting point on this journey is the Adidas Futurecraft M.F.G. and our ambition is we will give consumers what they want, when they want it."
The initial product coming out of the Ansbach facility will be made for Germany, with exclusive retail in the German market.
Adidas will roll this approach out across other markets in the near future, with the U.S. being the next to benefit from the Speedfactory model, following the announcement of a similar facility being constructed in Cherokee County, Atlanta.
Photo courtesy Adidas