In a year that suffered from a dismal back-half for the golf industry, Adams Golf managed a modest 3.3% drop in consolidated revenues, but swung to a loss versus solid profit in the prior year that benefited from the recording of a deferred tax asset of $4.8 million.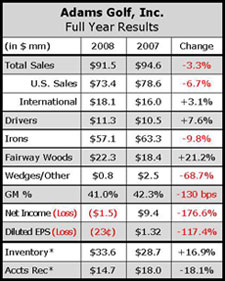 For fiscal 2008, management said sales were driven primarily by strength from the company's launch of the Insight XTD drivers and hybrids, along with the launch of the Idea a3 and a3 OS irons and its Tech a4 line of irons, hybrids, and drivers. The decrease in irons as a percentage of net sales was attributed to a decline in year-over-year sales of the a2 and a2 OS irons, as well as a general decline in the overall market. Driver sales were boosted by a 2008 first quarter launch of the Insight XTD Driver and a Q3 launch of the Tech a4 driver. Hybrid sales were driven by strength in the Tech a4 and a4OS hybrids, along with the Insight XTD hybrid, among others.
An especially weak fourth quarter saw revenues for the hybrid-specialist plummet nearly 40% to $12.5 million for the fourth quarter from $17.5 million in the year-ago period. Gross margins dipped 20 basis points to 38.9% of sales, while the net loss for the fourth quarter was $2.6 million, or 41 cents per diluted share, compared to a net income of $3.5 million, or 49 cents per diluted share, in the year-ago period.
CEO and President Chip Brewer said the company had lowered year-over-year fixed costs for fiscal 2009 by approximately 13%, and added that the company had seen promise from several first quarter launches, including the Speedline driver and the Idea a4 and a4 OS irons.