Adams Golf is the latest of the golf hardgoods companies to post negative results in the first quarter, but it appears the brand may have fared better than Callaway (SEW_0918), but roughly in line with TaylorMade (SEW_0919) and Wilson (SEW_0918). Management said the decline in sales was due in large part to reduced demand by customers amidst a weak economic market, which may just be the understatement of the year when it comes to golf.


Revenues for the for the hybrid-specialist, which declined 16.2% to $23.4, were driven by the Q1 launch of the Speedline drivers and hybrid-fairway woods and the Idea a3 and a3 OS Irons, along with the recent launch of the Tech a4 and a4 0S lines.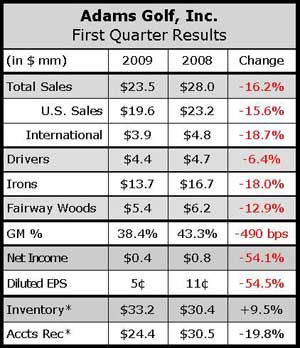 The only business segment that saw comparative improvement came from outside of the company's North American operations. Outside of the U.S. and Canada, sales increased to 5.1% of total net sales as compared to 4.4% of total sales a year ago. This proved to be a rather empty condsolation, however, as sales fell across all other business segments, including domestic sales of irons, drivers and hybrids.

Management for Adams said the company would continue to assess cost structure, "…including but not limited to workforce reductions, gross margin initiatives and over cost savings in order to sustain (the company's) financial position…"

CEO Chip Brewer said the company has seen "encouraging signs" that may signal a bottoming out in demand contraction during Q2 and Q3, and added that cost reduction efforts have lowered annualized fixed costs by roughly 21%.