Three relatively major sporting goods industry retailers filing for bankruptcy protection in the last four weeks signals the start of what many analysts suggest will be a trend for the first half of this year as the market looks to right-size itself within the confines of the new economic realities.

First, a large regional sporting goods player (SEW_0910) filed three weeks ago and then last week, one of the top big-box outdoor guys (SEW_0912) sought protection from creditors. This week, one of the top regional action sports retailers in Southern California filed for protection.

Active Ride Shop will celebrate its 20th anniversary under unfortunate circumstances this year after Active Wallace, Inc., which runs the SoCal action sports retailer, last Monday filed a voluntary petition for reorganization under Chapter 11 of the United States Bankruptcy Code. Active started as a small, single store location in Chino, CA in 1989 and is now based out of a 100,000+ sf facility in Mira Loma, CA.

In a statement, management for the skate chain said they are closing eight stores and plan to realign "its corporate support structure alongside the smaller store base, which will include 21 retail stores as well its e-commerce storefront."

In the bankruptcy filing in the U.S. Bankruptcy Court in Riverside, CA, founder and CEO John Wallace said that the company had already shut down several unprofitable stores prior to the filing. He said their financial advisor continues to "evaluate the viability and profitability of its operation and remaining stores."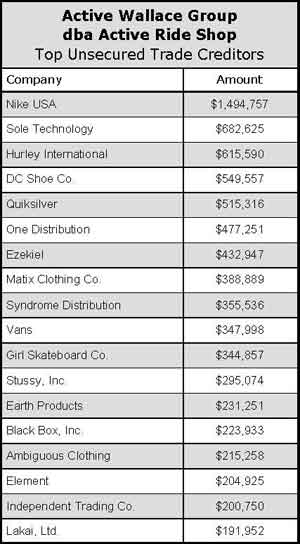 Active is blaming its financial issues on its own "rapid over-expansion" which saw the retailer achieve a decline in sales while doubling the number of stores in operation. Sales for the fiscal year ended March 31 are projected to come in around $59.9 million, a 3.0% decline from $61.8 million in revenues in the prior year. Fiscal 2008 revenues were up 4.9% from $58.9 million in fiscal 2007. The net loss for the most recent year is projected to be approximately $7.7 million, compared to a loss of about $2.1 million in the previous year. The retailer had posted a net profit of $368,356 in the fiscal 2007 year, or a return of less than one percent.

"The swift and dramatic downturn in the local economy had a major impact on our business in the 3rd and 4th quarters of 2008," said Mr. Wallace in a statement. "In combination with the robust growth and expansion we experienced during the previous 24 months, this perfect storm of economic retraction left us with no other option. The preemptive cost cutting initiatives that we took throughout 2008 were not enough to protect our investments without filing for Chapter 11 reorganization protection."

The retailer's list of top unsecured creditors reads like a who's who of the skate business, with Nike USA surprisingly at the top of the list – by a wide margin. Active had $5.6 million in inventory at the time of the filing.

The store closings and corporate workforce reductions will result in combined workforce compensation and related costs in excess of 30%, the company said.

The company is asking the Court to reject eight leases, including shops in Irvine, Mission Viejo Town Center, Lake Elsinore, Simi Valley, Chula Vista, as well as two stores in San Diego and one in Los Angeles. They also look to get out of an e-commerce partnership deal with ESPN and are looking to reject the contracts of ten team riders. The retailer will also give up its four Toyota Prius leases.

Active Ride Shop also noted that operating under the protection of Chapter 11 will provide the company's vendors with assurances that they will be paid for merchandise the company receives post-filing "so the company can be sufficiently stocked for the spring selling season."
"We appreciate the support we have received from our vendors and suppliers during this downturn," continued Wallace. "With this support, we have every reason to believe that we will emerge from Chapter 11 with a stronger business and a more impactful market presence."