The 100,000-square-foot Cabela's in Rogers in Arkansas is currently undergoing a significant renovation to bring Bass Pro Shops, Cabela's and Tracker Boats together under one roof for the first time. The plans represent the first significant retail location upgrade since Bass Pro Shops acquired Cabela's last fall.
"Rogers, Arkansas and the surrounding area is one of the best regions in the country for fishing, hunting and outdoor recreation. We're very excited to unite these iconic American brands to better serve the area's many outdoor enthusiasts," said noted conservationist and Bass Pro Shops founder Johnny Morris. "Our vision is to create the 'best-of-the-best' shopping experience that includes the superior products, outstanding customer service and exceptional value our customers have come to expect. At our newly expanded Rogers location, customers will discover the best of Bass Pro Shops, Cabela's and Tracker Boats all under one roof."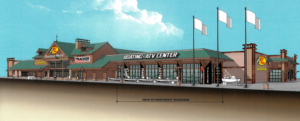 Customers will recognize the changes even before stepping inside, as new exterior signage will prominently highlight the iconic outdoor brands including Bass Pro Shops, a leader in fishing; Cabela's, a leader in hunting; and Tracker, producer of America's favorite fishing boats. A massive new two-story glass storefront to the right of the main entrance will flood natural light into the store and help highlight the newly expanded Boat Center and Marine and Fishing Centers.
Expanded Assortment of Boating, Fishing and Apparel
Inside, an all-new Tracker Boats Center featuring industry-leading brands including Tracker, NITRO, RANGER, SUN Tracker, REGENCY and TAHOE will greet customers in a more prominent location at the front of the store while doubling the existing space allocated for boats. The marine center will be operated by Arkansas' Knox and Lev Bradford of Bradford Marine.
Given the location's proximity to some of the country's major fishing destinations, the freshwater fishing department will expand the fishing footprint and assortment by 85 percent. Men's, womens' and children's apparel sections will also expand space and assortment, growing nearly 40 percent larger than the current layout. Customers familiar with both Bass Pro Shops and Cabela's will recognize many of the national brands now together to support selection, quality and value.
The expanded footprints will come from relocating existing office space to unused back-of-house storage areas, creating expanded space for customers.
Immersive Outdoor Features and Visitor Amenities
In addition to providing customers with more of the outdoor products they love, a team of talented artists and craftsmen are upgrading the store's imagery to reinforce its immersive outdoor theme. The signature creativity and attention to detail are hallmarks of every experience from Johnny Morris, who is often referred to as "The Walt Disney of the Outdoors" for his knack for creating amazing experiences that connect people with nature. Other popular amenities, including a cafe and fudge shop, will continue to offer customers the chance to take a break and enjoy a meal or snack during their visit.
United for Conservation
Conservation, another Morris trademark and signature company value, will also play an expanded role going forward. The store will host dozens of events throughout the year aimed at connecting new audiences, particularly children, to the outdoors. Hands-on demonstrations and interactive activities will be offered, such as "Gone Fishing," an annual event which aims to introduce families to fishing through catch-and-release ponds, casting games and free fishing seminars with the goal of creating the next generation of conservationists. More than 100,000 kids caught a fish at Bass Pro Shops locations last year alone, many for the first time.
Renovations will take place in stages beginning this month to allow the store to remain open as the enhancements occur.
Photo courtesy Bass Pro