A poll from the Wall Street Journal and NBC News  found the number of adults who claim to follow the NFL closely has dropped nine percent since 2014.
More worrisome, the survey of 900 adults conducted between January 13 and 17 showed that only 51 percent of men aged 18 to 49, the league's core audience, follow the NFL closely, down from 75 percent four years ago.
The sharpest decline came from men, down from 69 percent in 2014 to 50 percent today. White fans saw a decline of 12 points from 59 percent to 47 percent. No decline was seen among female fans, while black and Hispanic fans showed slightly more interest than in 2014.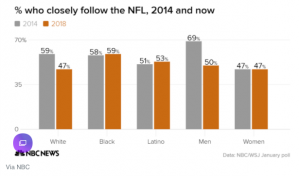 Nearly half of the survey's respondents—48 percent—said they would encourage a child who wanted to play football to take up a different sport because of concussion concerns.
According to the poll, 53 percent of mothers said they would encourage their child to play a sport other than football due to concerns about concussions, up from 40 percent in 2014. Of the poll respondents without children, 49 percent said they would encourage their child to play another sport, up from 43 percent four years ago.
Additionally, only 47 percent of people who follow the NFL say the league has taken meaningful action to reduce and prevent concussions, down 12 percent from 2014.