Mall-based retailer Zumiez Inc. reported profit for the third quarter ended Oct. 30 more than doubled on sales that surged 20.0% to $135.9 from $133.2 million a year ago. Same store sales for the quarter were up 14.4% compared to an 8.0% drop in the year-ago period.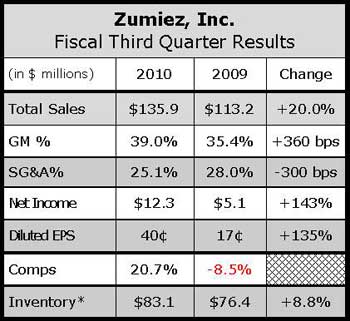 Management for the company said sales performance was "strong across the entire chain," led by strength in the South region, which comped up approximately 17% for the quarter. Website sales jumped nearly three-fold to 165% compared to the year-ago period.

Net income in the third quarter of 2010 increased 143% to $12.3 million, or 40 cents per diluted share, from net income of $5.1 million, or 17 cents per diluted share in the third quarter of the fiscal 2009.

CFO Trevor Lang said all departments recorded positive comps during the quarter with the exception of Junior's, which comped slightly negative. Lang attributed widespread comp growth to an increased number of transactions, which was partially offset by a decrease in the average dollar per transaction. The decrease in average dollar per transaction was driven by a low double digit decrease in average unit retail.

For November, comps increased 20.7% on total sales that improved 26.2% to $40.4 million from 32.0 million a year ago.

Gross margins for the quarter were 33.9%, down 240 basis points to 31.5% in the year-ago period. Lang added that sales for Black Friday and the holiday weekend were "similar to November's full month comp store sales results," which were up 18.9%, 24.3%, 18.8% and 20.7$ for weeks one through four, respectively.

Regarding outlook, the company is forecasting earnings per diluted share between 43 cents and 47 cents for the fourth quarter ended Jan. 29, 2011 on a same store sales increase in the low double-digit to mid-teen range.