At the company's recent shareholder meeting, Walmart Chief Merchandising Officer Steve Bratspies reportedly said, "Flashlight sneakers. These are a huge trend we're betting on this year."
Writer: Carly Terwilliger
Looking for the next big footwear trend? Walmart thinks it's found it – light-up sneakers that will retail for around $20.
At the company's recent shareholder meeting at the University of Arkansas, Walmart Chief Merchandising Officer Steve Bratspies reportedly said, "Flashlight sneakers. These are a huge trend we're betting on this year." The Washington Post reported that Walmart plans to sell 1.25 million pairs of the shoes in 2017 – adding up to a total of $25 million.
Although former NBA player Stephon Marbury beat Walmart to the punch with his line of Starbury Elite Lightup shoes – released in November for $49.98 – the retail giant plans to win the trend based on its low prices. Bratspies stated, "We beat on price, don't we? Every day, we beat on price." Other low-price imitators are popping up in places like Amazon, where Complex spotted a knockoff light-up version of the Adidas Yeezy Boost (pictured below).
Customers will be able to pick up Walmart's light-up sneakers next month in black, gray, pink and white styles with blue, green and purple LED lights, according to the Post. They can be recharged with a USB cable and claim to light up for eight hours.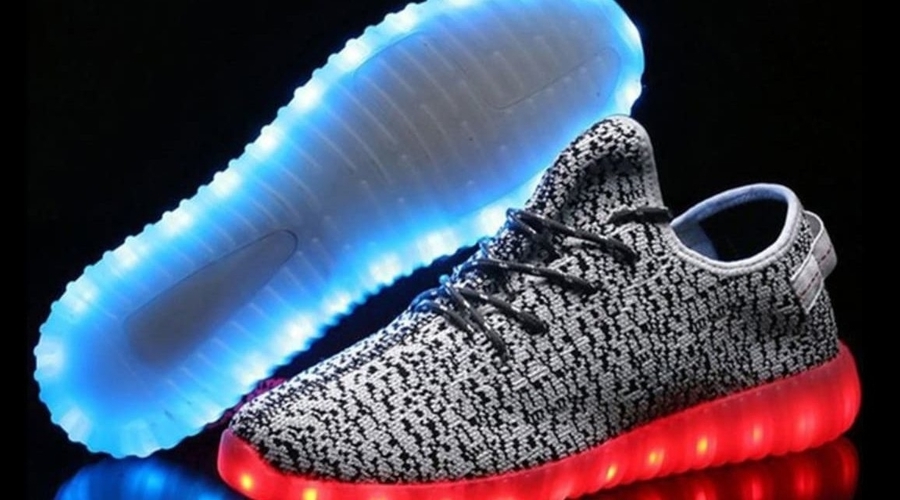 Lead photo courtesy Walmart, additional photo courtesy Amazon