Velodome Shelters, a Clifton, NJ manufacturer of bicycle parking shelters and bike racks has begun distributing a line of public bike repair products for the manufacturer, Bike Fixtation of Minneapolis, including the company's new Deluxe Public Work Stand and Wheel Chock.
A sleek looking fixture, the Deluxe Public Work Stand enables cycling enthusiasts to m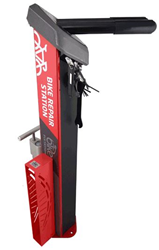 ake repairs while on the road, day or night. The stand incorporates all of the necessary tools to maintain and repair bicycles and get cyclists back on the road. By adding the optional Wheel Chock, two bikes can be repaired at the same time. The chock can also be used independently and secured next to a bike pump to support a bike while inflating the tires.
It also includes a link to online help. Some of the features of the Deluxe Public Work Stand are:
Tools securely attached by retractable braided stainless steel aircraft cable
Large surface area for custom branding/signage
Designed to incorporate the manual pump and Wheel Chock (both sold separately)
Long hose provides wide range without touching the ground
Impact and UV resistant front won't show wear from pedal strikes
ADA Compliant design
Velodome Shelters specializes in design, engineering and manufacturing innovative bicycle parking shelters and bike racks that protect bikes from the elements and deter theft. Velodome also sells secure bike maintenance equipment for public locations.