Under Armour Inc. reported break-even results in the first quarter, exceeding Wall Street's expectation. Sales also came in slightly ahead of expectations. Sales in North America were flat while international growth was 27 percent. The company maintained guidance for the year.
"Our first-quarter results demonstrate measured progress against our focus on operational excellence and becoming a better company," said Under Armour Chairman and CEO Kevin Plank. "As we continue to build our global brand by delivering innovative performance products to our athletes, amplifying our story, further strengthening our go-to-market process and leveraging our systems to create even deeper consumer connections, we remain confident in our ability to deliver on our full year targets."
On February 13, the company announced a 2018 restructuring plan, which detailed expectations to incur total estimated pre-tax restructuring and related charges of approximately $110 million to $130 million. In the first quarter, the company recognized pre-tax costs totaling $45 million, consisting of $32 million in cash-related charges and $13 million in non-cash charges. Adjusted financial measures exclude the impact of the restructuring and other related charges and the related tax effects.
First Quarter Review
Revenue was up 6 percent to $1.2 billion (up 4 percent currency neutral).
Gross margin declined 120 basis points to 44.2 percent as benefits from changes in foreign currency rates were more than offset by accelerated inventory management initiatives. Adjusted gross margin, which excludes an $8 million impact related to restructuring efforts, was 44.8 percent, a decrease of 60 basis points compared to the prior year.
Selling, General & Administrative expenses increased 3 percent to $515 million, or 43.4 percent of revenue, driven by continued investments in the direct-to-consumer, footwear and international businesses.
Restructuring and impairment charges were $37 million.
Operating loss was $29 million. Adjusted operating income was $16 million.
Net loss was $30 million. Excluding the impact of the restructuring plan, adjusted net income was $1 million.
Diluted earnings per share was negative $0.07. Adjusted diluted earnings per share was $0.00.
Inventory increased 27 percent to $1.1 billion.
Cash and cash equivalents increased 65 percent to $284 million.
Wall Street's consensus estimates called for a loss of 6 cents a share in the period on an adjusted basis and revenues of $1.12 billion.
Updated Fiscal 2018 Outlook
There are no changes to the company's full year 2018 outlook provided on February 13, 2018:
Net revenue is expected to be up at a low single-digit percentage rate reflecting a mid-single-digit decline in North America and international growth of greater than 25 percent.
Gross margin is expected to increase approximately 50 basis points to 45.5 percent due to benefits from lower planned promotional activity, product costs, channel mix and changes in foreign currency.
Operating income is expected to reach $20 million to $30 million. Excluding the impact of continued restructuring efforts, adjusted operating income is expected to be $130 million to $160 million.
Interest and other expense net is planned at approximately $45 million.
Excluding the impact of the restructuring efforts, adjusted diluted earnings per share is expected to be in the range of $0.14 to $0.19 and,
Capital expenditures are planned at approximately $225 million compared with $275 million in 2017.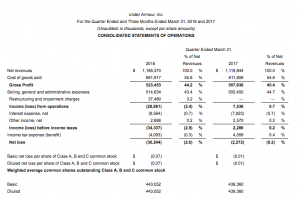 Photo courtesy Under Armour