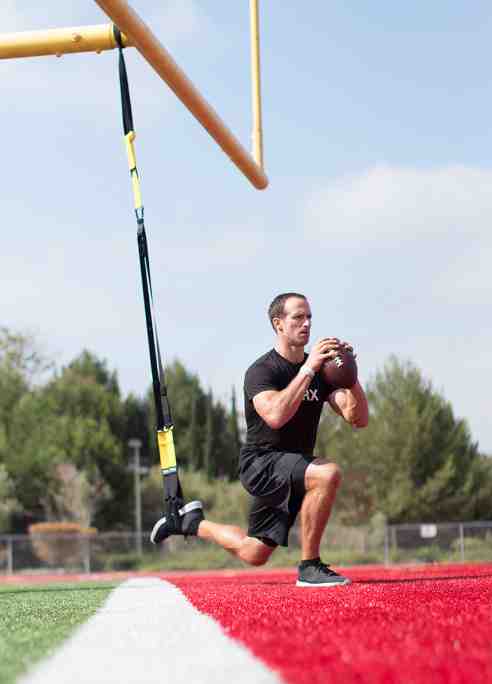 TRX, the maker of training equipment, in collaboration with The Brees Dream Foundation, announced the "Drew Brees Touchdowns for TRX" Program – a program that will turn Brees' touchdowns during November games into physical education and athletic training equipment for one high school in each of the cities of Brees' opponents during the month. The program is unique in that it converts the touchdowns he scores during games into valuable resources for each local high school.
For each touchdown Brees scores (passing or running) against opponents from New York City, Washington D.C., Houston, and Nashville, a school in each market will receive nine TRX Suspension Trainers. In addition, each school will receive mounting equipment and a professional training session with an elite TRX trainer for its athletics administrators. The program will culminate in New Orleans around Brees' final home game, where his touchdowns will benefit a high school in his home city.
The training program is based on TRX's 21-week school curriculum for physical education teachers to use with their students and emphasizes the importance of movement and functional training. The TRX curriculum is part of the company's mission to democratize fitness and get people of all ages and abilities to move better. TRX will also train each school's athletic coaches to effectively utilize TRX training with their student athletes.
"TRX and Drew Brees share a common mission of championing the importance of physical fitness for all, regardless of age or athletic ability. We're incredibly proud of our affiliation with such a special athlete," said Randy Hetrick, CEO and Founder of TRX. "With so many physical education programs facing dramatic budget cuts and childhood obesity continually rising, TRX and Drew are committed to making youth fitness a priority. This program brings that shared mission to life."
"TRX Suspension Training has been an integral part of my training regimen for years, so I've experienced the product's significant benefits first-hand. TRX is incredibly portable and scalable, and incredibly effective for individuals of any age or ability. It's ideal for schools in need of cutting-edge athletic-training resources for student athletes, or schools simply looking for physical education programs," said Brees. "Along with TRX, I'm excited to be delivering "wins" for their local High Schools."
In addition to the local high school donation program, fans across the country can also benefit from the campaign. TRX and Brees are providing fans the chance to attend Brees' final home game and meet him in person. Fans can visit www.trxtraining.com/drew-brees to enter to win the trip for two to New Orleans, two tickets to the final home game and a meet & greet with Brees. Fifty other winners will receive TRX prizes, including apparel and training gear.
TRX Suspension Training is used by majority of professional sports teams in North America, the U.S. military, wounded veterans, health clubs, as well as by the young and elderly due to it's versatility and scalability. The TRX Suspension Trainer is the ultimate tool to use in schools' physical fitness programs as the vast library of over 300 exercises can keep workouts fresh and fun while reaping great health benefits for students of all abilities.
Created by a former Navy SEAL, TRX empowers people to take their 'gym' along with them, whether at home or on the road. The TRX Suspension Trainer is lightweight and portable, making it the ideal tool for health-conscious travelers, busy moms, and serious athletes alike. It can be easily packed into a suitcase and attached to a door, tree, and pull-up bar at the gym or playground.