Trade groups representing apparel, footwear and travel goods companies are seeking to restart Proposition 65 reform efforts in California from scratch after concluding a regulatory draft prepared by the state's health regulator would increase their members' exposure to frivolous lawsuits and compliance costs.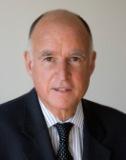 The law, known formally as the California Safe Drinking Water and Toxic Enforcement Act of 1986, has motivated businesses to eliminate or reduce toxic chemicals in consumer products, but has also resulted in nearly 2,000 lawsuits since 2008. In May, 2013, Gov. Jerry Brown (shown to the left) proposed reforming the law to reduce abuse by "some unscrupulous lawyers driven by profit rather than public health."
At the time, Brown backed measures that would make it more difficult and less lucrative to file Prop 65 complaints, but also said he supported requiring manufacturers provide "more useful information to the public on what they are being exposed to and how they can protect themselves."

In
a June 13 letter
to the state's Office of Environmental Health Hazard Assessment (OEHHA), executives from the American Apparel and Footwear Association, the Travel Goods Association and the Fashion Accessories Shippers Association spelled out their opposition to six items in the agency's
proposed regulatory draft
. Listed first was changes to safe harbor language meant to limit companies' liability.
"Under the draft regulation, the potential for litigation arises not only for failing to warn about one of the 12 specific chemicals listed in the draft, but for other chemicals an enforcer alleges are contained in the product," reads the letter. "Likewise, a business's description of chemical routes of exposure, levels of exposure, and actions a person can take to minimize or eliminate exposure can be challenged by enforcers as allegedly insufficient, resulting in costly litigation."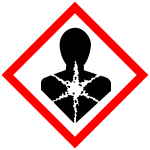 The trade associations also opposes a provision that requires certain products to bear the Globally Harmonized System (GHS) health symbol shown to the right, which denotes the presence of potential health hazards, including carcinogens, mutagenicity and reproductive toxicity, because the pictogram also communicates hazards outside the scope of Prop 65, such as respiratory sensitizer, target organ toxicity, and aspiration toxicity. "It is reasonable to assume that consumers who research the elements of the GHS pictogram may assume they are being exposed to all the hazards that the pictogram represents," the letter argues.
The letter argues new reporting requirements proposed in the draft would impose immense costs and administrative burdens on businesses with no apparent public benefit. Proposed changes to warning labels could do more to confuse consumers then enlighten them in the absence of a public education campaign, the letter argues.
"The undersigned associations urge OEHHA to withdraw the proposal and work with the undersigned associations and all other stakeholders to develop and implement reforms that would restore Proposition 65 to its original intent."