By Thomas J. Ryan
At VF Corp's 2019 Investor Day last week, Arne Arens, global brand president, The North Face, predicted The North Face's revenues would reach $4 billion by fiscal 2024 as the brand capitalizes on untapped opportunities reaching women and in categories such as sportswear and footwear. But a greater emphasis on inclusivity is expected to help draw a broader range of consumers to the brand.

A louder inclusivity message was first heard from the brand in 2017 with its "Walls Are Meant For Climbing" campaign that was designed to make the sport of climbing more accessible. As part of that effort, The North Face made a $1 million donation to The Trust for Public Land to support public climbing walls in more communities, with a focus on underserved areas. The brand also funded free climbing sessions on Global Climbing Day.
The brand's "She Moves Mountains" campaign, launched last year, addressed the brand's longer-term commitment to be more inclusive of women. At the Investor Day held in Denver, Arens said the campaign embraced The North Face's overall theme of exploration but was "told through the lens of some of our global female athletes and a number of other incredible women, encouraging women and girls around the world to go on their discovery journey of exploration, which was really powerful."
However, the broader inclusive emphasis is reflected in an updated positioning statement: "We are the world's leading premium exploration brand anchored in pinnacle performance and innovation on the mountain and adopted by explorers everywhere for our iconic style."
Arens noted that the revision marks "a bit of a pivot here from an outdoor brand to an exploration brand, which essentially means that we're opening up the aperture and are inviting more consumers into our brand through these different lenses."
For the brand, he noted, the shift means "it becomes even more important that we stay rooted in our DNA and into who we are as a brand as we're expanding our business both on the performance as well as on the lifestyle side because this will give us authenticity in everything that we do."

On the performance side, he noted that the brand would be looking to build on past successful platforms in outerwear such as the Thermoball, Apex Flex and Ventrix, He also said the brand has overall "doubled down on innovation" and talked up the potential for Futurelight, an ultra-breathable outerwear jacket that won "Best In Show" when it was unveiled at January's CES (Consumer Electronics Show), shown left.
Officially launching at retail this week, the Futurelight line will first be introduced on the upper-end with the Summit Series, Steep Series and Flight Series, but reach more commercial price points in Spring 2020 and Fall 2020. Futurelight is eventually expected to represent about 35 percent of the overall outerwear line and also help redefine core categories of rainwear, Triclimates and parkas.
But the more inclusive positioning is particularly expected to help expand deeper into categories such as sportswear, footwear and lifestyle overall.
Arens describes The North Face's prime consumer target as the "progressive explorer." The progressive explorer "can take on many different forms," ranging from the elite climber to individuals who see exploration through art, music or travel. Said Arens, "What they all have in common is the mindset of exploration, discovering what's beyond the horizon for themselves. But, as I said, also connecting to people, to their communities and the world around them. We recognize that there is an incredible amount of diversity within the progressive explorer."
Overall, he said the global addressable market for The North Face is about $135 billion, rooted in outdoor and outerwear but also including sportswear, athleisure and performance footwear.
The North Face segments the brand's opportunities across three consumer "territories"— Mountain Sports, covering the performance side such as mountaineering, skiing, snowboarding, trail running, and hiking; Mountain Lifestyle, offerings that are "very authentic and mountain-inspired;" and Urban Exploration, aimed at the brand's most fashionable consumers and urban-based.
As far as growth drivers, "the biggest marketing campaign" the brand has ever launched will be the Futurelight platform to help drive Mountain Sports' growth.
Across lifestyle territories, segmentation is the focus, including a focus on premium products, being rooted in the brand's technology and design, and a distribution strategy, "starting with our own DTC and exclusive boutiques around the world and cascading down into the more commercial channels," according to Arens.
The lifestyle push will support the company's "365" strategy, or becoming more of a Spring/Summer brand and less dependent on outerwear. Toward that goal, the biggest opportunity is sportswear, which is receiving greater attention. Arens said, "We have a completely new team that is working on sportswear both in design and in product but also on the supply chain. And we have recalibrated our supply chain to be more sportswear-focused, more agile and also more sportswear specific."
The brand also has an opportunity to further grow in trail running and light hiking.
The North Face previously had a fourth consumer territory, "Run and Train;" however, that's been folded under Mountain Sports "so that we can approach it in a very brand right and authentic way," said Arens. He added, "Our lens on that is going to be trail running and light hiking but executed in a young contemporary way which is going to help us draw new consumers, actually primarily female consumers, into the brand."
Women's product represents about 35 percent of The North Face's total sales and "can easily grow" to 40 percent, said Arens. Steps to accelerate women's growth include ramping up investments in designing products tailored for women, a greater focus on DTC as well as exclusive boutique department stores to reach women where they shop, and a more "women-specific" marketing tone. The "She Moves Mountains" campaign will be continued.
Finally, footwear is currently about 7 percent of The North Face's entire business, and Arens feels the brand "can easily double that." Helping drive footwear growth will be a "completely new leadership team" that is working on an innovation platform to launch in spring 2021. Said Arens, "With our decade-long experience in the mountains, we're redefining for ourselves as a footwear brand, but also for the entire industry, what stability and control and comfort in footwear means."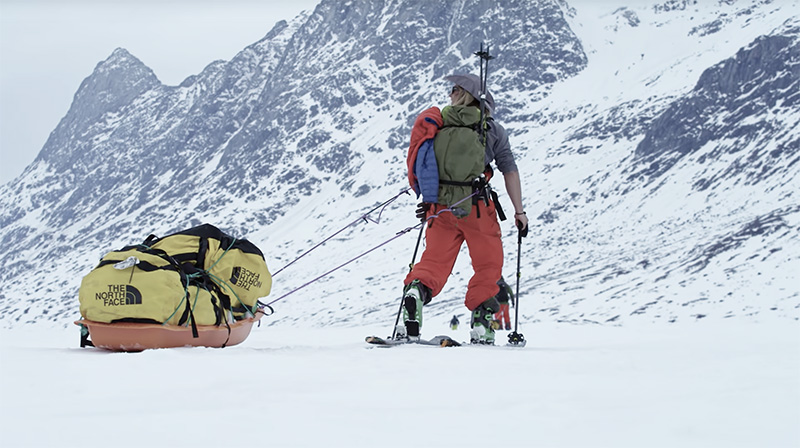 The five-year outlook for The North Face brand includes:
Overall: An 8 percent to 9 percent CAGR (compound annual growth rate) is expected over the next five years, an increase from the 6 percent to 8 percent range given at the company's last Investor Day held in Boston in 2017. Sales are expected to reach $4 billion in fiscal 2024, up from $2.6 billion in fiscal 2019. Sales had grown at a 7 percent CAGR from 2016 to 2019.
Region

: The fastest growth is expected to come from the APAC region, at a 13-to-14 percent CAGR over the next five years, followed by non-U.S. Americas, 8-to-9 percent CAGR; and the USA and EMEA are both expected to expand at a 7-to-8 percent CAGR. By 2024, the USA region is expected to shrink as a percent of sales to 54 percent from 58 percent in 2019; EMEA to remain the same at 27 percent; APAC to increase to 13 percent from 10 percent; and non-U.S. Americas to reach 6 percent, up from 5 percent. International will in total make up 46 percent of the mix, but growth targets in the U.S. increased versus the previous plan.

Channel

: The fastest growth is expected to come from DTC Digital, expanding by 19-to-20 percent CAGR through fiscal 2024. DTC Store is expected to grow at a 7-to-8 percent CAGR, boosted by a 3-to-4 percent increase in store count. Wholesale is expected to expand at a 5-to-6 percent CAGR. By fiscal 2024, DTC digital is expected to grow to 19 percent of The North Face's sales from 12 percent in fiscal 2019, DTC stores to remain the same at 29 percent and wholesale to shrink to 52 percent from 29 percent.

Territory

: The fastest growth is expected to come from the Urban Exploration category, expanding at a 14- to-15 percent CAGR over the next five years; followed by Mountain Lifestyle, 9-to-10 percent and Mountain Sports, 5-to-6 percent. As a percent of sales, Mountain Sports is expected to shrink to 45 percent by 2024 from 53 percent in fiscal 2019, while Mountain Lifestyle increases to 32 percent from 30 percent and Urban Exploration expands to 23 percent from 17 percent.
Lead image Angel Collinson, Big Mountain Skier and sponsored North Face Athlete, bottom image Johnny Collinson, brother of Angel Collinson, Big Mountain Skier and sponsored North Face Athlete. Photos courtesy The North Face