The Finish Line, Inc. saw consolidated net sales from continuing operations total $268.7 million for the third quarter, a decrease of 4.0% from $280.0 million for the same period last year. The company noted a $6.7 million benefit in the year-ago quarter due to the shifting retail calendar, which gave Q3 2006 an extra week of BTS sales. Total company comparable store net sales for Q3 declined 3.6% with Finish Line stores down 3.2% and Man Alive down 9.8% for the period.
On a recorded conference call, FINL reported that the company saw a low-single-digit increase in the men's footwear business, a double-digit decline in the women's footwear business, and a low-single-digit decrease in the kids business. Though ASP's were down 2.3% for the quarter, they were positive for both October and November.
In the running category, men's decreased low-singles, while the women's business was down in the double-digits. Running ASP's increased high-singles, led by sales of higher-priced premium footwear, including Nike Shox+ and Asics. Basketball was positive for the quarter, led by Brand Jordan and other premium products. Basketball sales were up high-singles with an increase in margin and ASP.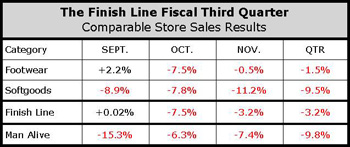 Direct-to-consumer sales through FinishLine.com and the company's catalog posted double-digit growth for the quarter and year-to-date.
Man Alive stores posted a 9.8% comp store sales decrease for the quarter on a mid-single-digit decrease in juniors apparel and a low-double-digit decrease in men's apparel.
Product margins for the quarter were below last year's level. As a fore-warning of bottom line hassles, FINL said it expects occupancy costs and SG&A expenses to de-leverage compared to the prior-year based on the negative comparable sales.
Consolidated inventory per square foot is expected to be approximately 5% to 7% lower than a year ago with Finish Line store inventories down 2% to 4% per square foot.
The company expects to report a loss per diluted share in the range of 34 cents to 36 cents for Q3, including approximately 12 cents per share in expenses incurred in connection with the proposed merger with Genesco Inc. and the related litigation and a 7 cents loss per diluted share related to the discontinued operations of Paiva. Excluding those expenses, the company expects to report a loss per diluted share of 15 cents to 17 cents for Q3.
During Q3, the company opened seven new Finish Line stores, remodeled five stores and closed three stores, for a total of 701 Finish Line stores at quarter-end. Square footage increased 1% to 3.9 million square feet. The company opened one new Man Alive store and remodeled two during the quarter with 96 stores open at quarter-end.