Technogym reported a 6.7 percent consolidated revenues increase compared to the first nine months of 2017. Sales were up 10.1 percent at constant exchange rates.
Technogym said it is growing significantly faster than the reference market and is gaining market share with respect to its direct competitors. In the first nine months of 2018, sales stood at €433.5 million versus €406.2 million recorded in the same period of 2017.
Nerio Alessandri, chairman and CEO, commented, "Technogym continues to growth in a sustainable and profitable way. Thanks to our focus on innovation and on our brand premium positioning, we have recorded strong growth in future development high-potential areas and good results in the more consolidated markets. Three hundred and sixty degrees innovation, from products, to service, to ecosystem, based on our Mywellness digital platform, continues to represent our customers' main need all over the world. Technogym confirms its consumer-centric strategy, and starting from SKILL LINE, the new product range dedicated to athletic training, has developed new training experiences and programs based on specific end-user passions such as cycling, running or rowing. This consumer experience focus represents a great opportunity also for industry operatorsby allowing them to shape new business models to boost attraction and retention within their centers.
"The combination between design, brand positioning and international sales network efficacy will allow us to close 2018 with a sustainable and profitable growth, in line with our mid and long terms objectives."
Of particular significance is the increase in sales posted in high-potential markets – North America (+15.5 percent) and Asia Pacific (+10.7 percent)–and in more consolidated markets–Europe (+8,4 percent) and Italy (+12 percent).
Following is a short analysis of revenues broken down by distribution channels and geographic areas: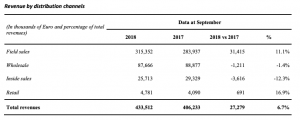 With respect to revenue performance by sales channel: Field Sales continue to be the main channel registering a growth of +11.1 percent. The Wholesales channel shows an important improvement compared to the first semester result (-1.4 percent Vs – 7 percent) thanks to the recovery of part of the revenue slippage due to the EPR change. The inside sales channel (Ecommerce & teleselling) recorded a negative performance only due to some geographical areas in Europe. The Retail channel, which has a marginal impact on the company business model, with its main purpose to act as show room support for the other main direct sales channels in an omni-channel perspective, has posted a double digit growth.

In line with the trend of recent years, approximately 90 percent of the total revenues of the group was generated outside of Italy and approximately 40 percent outside of Europe.
Technogym continues to grow in accordance with the business plans in all the main markets of greatest interest: Europe, North America and APAC. In accordance with trends in recent years, there has been a significant increase in North America (+15.5 percent) and strategic markets for the future growth of the company. Growth is also positive in Europe and Asia Pacific. After two years of strong growth, revenues slow down in LATAM mainly because of the unstable, macroeconomic context in Brasil which represents the major contributor in the region.
Photo courtesy Technogym