Smith & Wesson Brands, Inc. reported its fourth consecutive record-breaking quarter and awarded sizeable annual bonuses to its employees as the firearms giant surpassed $1 billion in sales for the first time in its 169-year history. Sales doubled in the fiscal year ended April 30.
On a conference call with analysts, Mark Smith, president and CEO, shown below, said that in recognition of exceeding the $1 billion milestone, the company is giving all full-time employees a bonus of $1,200 and a $600 bonus to all temporary employees. In total, it will give its eligible employees over $14 million, or 15 percent of their annual salaries.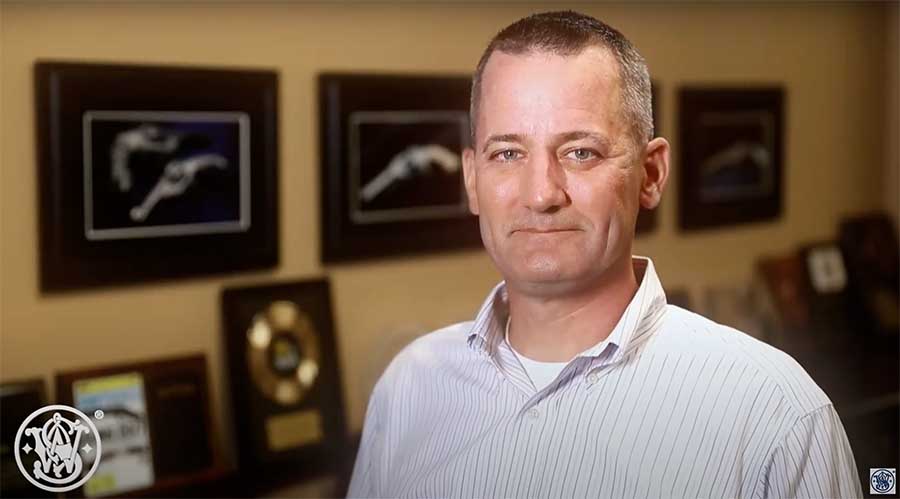 "The most impressive and humbling thing to see was how our unbelievable family of employees came together to support each other throughout the most challenging times we've seen in our lifetime and made sure the company they love never missed a beat," said Smith.
"Whether as our order entry team working tirelessly to manage the influx of new orders; our operations team ramping production by over 60 percent in a few short months; our AP and AR teams keeping up with the immense volume of transactions that came with the pandemic; our human resources team thinking outside the box to recruit almost 300 new employees in the middle of the pandemic; our sales team continuing to safely visit customers and make sure that their needs were met; our customer service team handling heavy call volume to ensure our reputation for world-class service never faltered; and every other employee and function in the organization, the impressive results that Smith & Wesson delivered this year, and the long-term success of the business simply would not be possible without them."
Fourth-Quarter Sales Climb 67 Percent
In the quarter, sales reached $129.9 million, a 67.3 percent jump. The record revenues were boosted by a combination of increased capacity implemented in response to ongoing heightened demand, an increase in average selling prices due to the lack of promotions offered (combined with a 3 percent price increase implemented in November) and an increase in operating days during the quarter.
The fourth quarter is typically the company's strongest quarter of the year, with 65 operating days.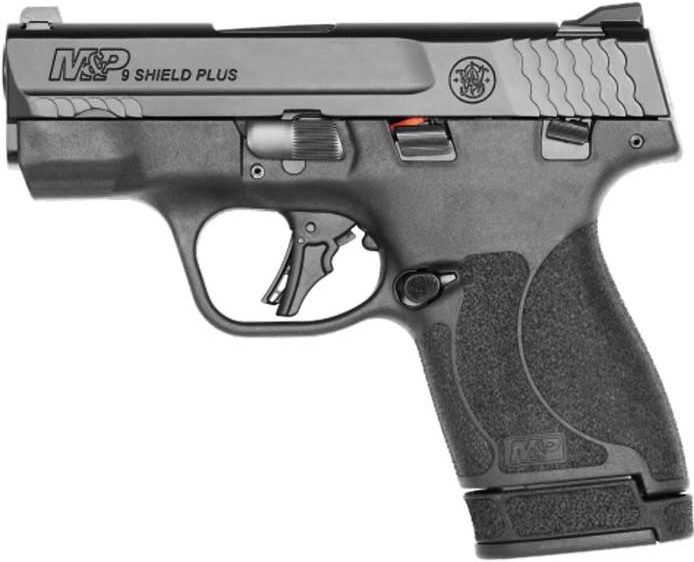 The introduction of Shield Plus, shown right, which began shipping during the middle of the quarter, contributed to its strong fourth-quarter performance.
For the full year, sales reached an even $1.0 billion against 2020 sales of $529 million. The gains reflected an increase in volume by over 60 percent in the middle of the year and navigating supply chain challenges due to the pandemic, weather and other circumstances.
Gross Margins Expand 1,300 Basis Points
Gross margins in the fourth quarter reached 45.1 percent, up nearly 1,300 basis points above the 32.2 percent realized in the prior-year comparable quarter.
The higher margin was due to increased unit shipments, combined with the elimination of substantially all promotional activity, a 3 percent price increase and a mix shift toward higher-margin products. Margins were slightly negatively impacted by increased volume-related spending, some inflation impacts, increased depreciation on machinery purchases, and compensation-related costs associated with increased headcount and profitability.
For the full year, gross margin of 42.4 percent was over 1,100 basis points higher than the 31.3 percent recognized in fiscal 2020. The gains reflected increased average selling prices and strong cost controls.
Operating expenses of $29.7 million for the fourth quarter were $1.5 million lower than the prior-year comparable quarter, despite the increased shipping costs and customer allowances associated with increased volume, $2.9 million of increased profit-sharing expense, increased legal fees, and an increase in costs related to market research, new product launches and the launch of a new marketing initiative.
The net decrease in operating expenses was driven by reduced salaries, $4.3 million in reduced spin-off-related costs, lower stock compensation, lower trade show costs and travel costs due to the pandemic, and reduced consulting.
For the full year, operating expenses of $129.4 million were approximately $14 million higher than fiscal 2020, driven primarily by the increase in profit sharing.
On a reported basis, net income in the quarter was a record $89.2 million, or $1.70 per share, compared with $20.9 million, or 38 cents, a year ago. Adjusted to exclude costs related to the spin-off of the outdoor products and accessories business, COVID-19-related expenses, and other non-recurring costs, earnings grew nearly three-fold to $89.6 million, or $1.71, compared with $27.5 million, or 50 cents, a year earlier.
Non-GAAP adjusted EBITDAS was $125.6 million, or 38.9 percent of sales, compared with $51.6 million, or 26.7 percent, for the comparable quarter last year.
Full-year GAAP earnings were $243.6 million, or $4.40, compared with $27.7 million, or 50 cents, for the prior year. On a non-GAAP basis, net income was $251.5 million, or $4.54, up nearly eight-fold compared with $32.1 million, or 58 cents, for the prior year.
Inventories as of April 2 were at $78.5 million, down 24.3 percent compared with $103.7 million a year ago.
The strong performance drove nearly $318 million in cash from operations for the year and was used to pay off its $160 million debt, return over $8 million to shareholders through dividends and reduce its outstanding shares by over 14 percent in the 10 months since the spinoff. This week, the company's board approved a 60 percent increase in its fixed dividend and authorized an additional $50 million share repurchase program.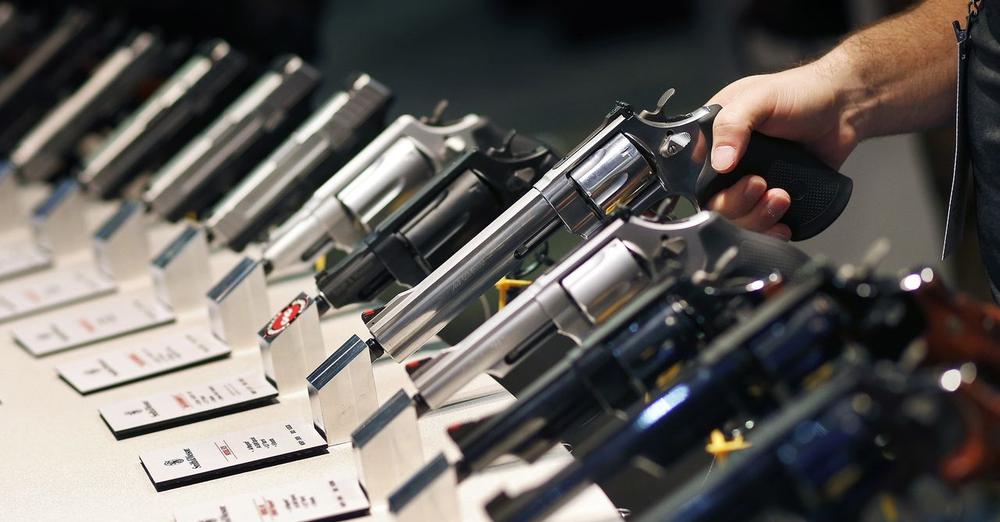 Smith & Wesson Scores Market Share Gains
Smith said Smith & Wesson's manufacturing logistics teams produced and shipped nearly 2.5 million units last fiscal year, representing a 70 percent increase year-on-year. During the same time frame, the U.S. firearms market, as measured by NICS, grew by 42 percent.
"Even though it was a record year of growth for the industry, we were still able to realize astounding market share gains," said Smith.
He said the company benefited from its flexible manufacturing model that enabled the company to react quickly to changes in market demand, "ensuring that our product is more readily available at retail even during periods when the overall industry is capacity-constrained."
The company's sales and marketing teams have also connected with the "millions of new firearms owners" that entered the category over the last 15 months to support future growth.
Other highlights for the company include:
In the past year, it conducted an ANU study to understand the new firearm owner demographic and how to connect with them.

The company recorded over 45 instructional videos for its GunSmarts series with a professional shooting team on topics ranging from the basics of responsible firearm ownership, how to find a local firearms social community or increase skills to become a proficient target shooter. To date, the videos have been watched over 2 million times.

Smith & Wesson's website has been completely redesigned and relaunched to improve ease of use and brand messaging. Sixteen million individuals have visited the site for the first time this year.

The company held its first virtual show that supported the launch of its popular new pistol, the Shield Plus, which has sold over 148,000 units in the first three months.

Twelve new products will launch this year.

In July, a touch-screen, interactive display will debut at over 50 major retail locations around the country, highlighting Smith & Wesson products, features and brand messaging.

Smith & Wesson's first brand anthem was produced, highlighting the company's values and beliefs.
Firearms Demand Remains "Very Active"
Smith & Wesson continues to not provide guidance due to the uncertainties in the marketplace.
"What we can tell you is that the firearms market continues to be very active," said Smith in the Q&A session. He noted that it is "widely known" that ammunition shortages continue, and May's adjusted NICS firearms background checks were the second-highest on record although below year-ago record levels.
Smith said, "We expect that the market will continue to remain elevated. We're going to be comping to a tough year as we go forward. We're optimistic. We've done a great job of taking market share and not sitting back on our laurels enjoying the fact that the operations team is cranking our product. We've also done a lot of work on the marketing side to be ready for any eventuality in terms of that…We're excited about the long term."
Photos courtesy Smith & Wesson