Slidepad Technologies, maker of a revolutionary single-lever brake system, announced it has hired Salt Lake City-based SOAR Communications to help launch the company and its product to the bicycle industry.
Slidepad Technologies is the manufacturer of a patent pending brake system in which the friction of the rear brake actively modulates the front brake giving the rider smooth, controlled stopping power. The Slidepad system eliminates the risk of over-applying the front brake and causing over-the-bars accidents, all while simplifying the user experience by requiring only a single brake lever.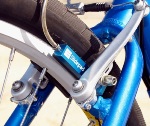 "Slidepad provides recreation and commuting cyclists with a safe, effective brake system that alleviates the fear of endoing that many riders worry about," said Brian Riley, president and co-founder of Slidepad Technologies. "We hired SOAR Communications to help launch our company because of their experience within the bike industry, as well as in the outdoor recreation industry in general."
Co-founder and design engineer Andrew Ouellet invented the Slidepad system in 2008 while a student at Cal Poly San Luis Obispo. It consists of a special brake pad and holder designed to work with V-brake style calipers. As the rear brake is applied, the special pad slides within the holder on the right side of the bike, pulling on a cable connected to the front calipers stopping the bike. The rotational force of the rear wheel controls modulation of the front brake and reduces the overall amount of hand strength required to stop.
In 2009, Ouellet and Riley entered their original design in Cal Poly's Business Plan Competition and won 1st place. Soon after, they formed Slidepad Technologies and filed a patent.
Slidepad is perfect for comfort, electric, urban, folding, and youth bicycles and is an easy upgrade for existing braking systems. Slidepad upgrade kits will be available this spring and the company is currently working with key bike manufacturers on September OEM delivery.
Formed in 2004, SOAR Communications serves the Sports, Outdoor, Athletics and Recreation industries, thus the moniker SOAR.
"The technology that Slidepad is bringing to the market is deceptively simple and really smart," said Chip Smith, SOAR Communications president. "With the growth in the commuter bike category and the industry's push to get more people on bikes, Slidepad is launching at the right time."
Slidepad joins the ranks of SOAR Communications clients that currently include cycling apparel maker Primal Wear and Nielsen Expositions trade shows Health+Fitness Business, Interbike and Outdoor Retailer. SOAR also represents non-profit organizations Bikes for Kids Utah and Trips for Kids.