By Eric Smith
Royal Robbins the brand might have a new owner and a new logo, but Royal Robbins the man still pervades the spirit of the company more than a year after his passing, according to current President and CEO Michael Millenacker.
Robbins, the apparel company's namesake and founder who died in 2017 at 82, hired Millenacker back when he was only 27 to be national sales manager. Millenacker spent six years in that role, later returning in 2015 as president and CEO. Millenacker said his time under Robbins' tutelage helped him become the leader he is today, one who treats both life and business as an adventure.
"He had a huge impact on my career and the way I do things, how I lead and manage people," Millenacker told SGB. "When I first worked for him, I rented a house from him; I was at their house a lot of nights for dinner and I went on many adventures with him—climbing, whitewater paddling, all over. I've got a real appreciation for him and his approach. We don't have to really think about what Royal means to us. His spirit is just ingrained in the company, starting with our vision."
Not even an ownership change could alter that. In March, Switzerland-based global outdoor apparel and equipment giant Fenix Outdoor International AG acquired Royal Robbins, which joined fellow U.S. brands Fjallraven, Primus and Brunton in the Fenix family. Despite being folded into a much larger organization, Royal Robbins' vision for the brand—which is celebrating its 50th anniversary this year—remains solidly intact, Millenacker said.
"So much of the company is built around him, his values, his vision, his way of doing things," Millenacker said. "[His death] had a pretty profound effect on us, but at the same time it solidified our quest for making his vision come to life.
"Our vision is we inspire adventure. Royal always wanted adventure, even in his everyday job, and he wanted our brand to remind you and inspire you to make life an adventure. So that's what we set out to do. We want you to get out there and push yourselves."
Royal Robbins' corporate values "come straight from Royal's guidance," and here they are in Millenacker's words:
Lead, don't follow. That's our term for innovation. He always wanted us to push ourselves in every facet of the business.
Grow our people. Royal and [his wife] Liz were always big on developing people because they knew to grow as a company that the people had to grow right along with it.
Explore. We're constantly exploring—exploring the outdoors and also exploring new ways to do things in business.
Keep on climbing. The Dharma bum phrase that we used to say all the time: As soon as soon as we hit one goal, reach for the next.
Nutcracker. This is the name of a first ascent climb in Yosemite Valley. That was the first ever climb in the U.S. done using clean climbing techniques, so using nuts rather than pitons. That's epitomizes the company's belief around environmental conservation and corporate and social responsibility. It stems from back then when they were trying to promote clean climbing. Nutcracker is now our tribe's word for efforts around sustainability.
Here is the rest of what Millenacker shared with SGB about where Royal Robbins is heading under the ownership of Fenix Outdoor, including growth plans and where the parent company is investing to further build the newest addition to its portfolio.
What has been the impact of Fenix Outdoor acquiring the company, and do you have assurances that ownership is going to keep your vision intact but also foster growth? In a word, it's been massive. From day one they've impacted us. I was really impressed with their long-term strategic approach to brand building. They certainly have guiding principles that free us up to always do what's best for the long-term success of the brand and they freed us up to make decisions like choosing to limit our sales on Amazon to just a very few special retail partners and not selling them direct going forward. That type of decision-making is what they do with all their brands. There were other assurances, especially as you look at the reasoning behind the purchase. They own the best retailers in the space in Europe—Globetrotter, Friluftsland, Naturkompaniet, Partioaitta. We essentially become their go-to brand within those stores, so right away our volume in Europe triples overall. We quickly become a much bigger global brand. At the same time, they want good brand stewards that weren't overly distributed and had a rich heritage story. That's why I'm assured we're a priority for them.
Have there been some challenges over the last few months as Royal Robbins is integrated into the larger company? Yes, but in a good way. With all this additional investment, we've got to go out and move against it. We've got a bunch of hiring to do right now because we're increasing our staff here at the headquarters by a third. Finding the right people that fit with your culture and the right experience level is always a challenge, but we're almost there to making all of these hires. We're also looking for a new headquarters. As for the integration process, I went through it when we sold Eagle Creek to VF Corp. It's a big, long process you go through but luckily we've got a lot of really experienced people on the Fenix side to help us with the integration, to get us onto their platforms, and that's all going really well at this point. We'll wrap up the integration by October.
You talked about the natural growth in Europe because of Fenix's retail presence there. I know you can't disclose revenue, but what is the sales goal in terms of growth for the brand here in the U.S.? The expansion in Europe and other international regions will be massive and quick. The expansion opportunity in the U.S. is pretty easy to see as well. We're in just over 200 accounts in the U.S. and within outdoor specialty there's a lot more accounts to grow into and more penetration within those current accounts. We feel that we can triple the business within our current lane of outdoor specialty. We don't have to break into other channels or do anything else there. We've just got to deliver more progressive product lines and we'll be able to triple the size here in the U.S. to go along with the global growth. Fenix hasn't put an immense amount of pressure on us to grow for growth's sake. It's more about, "Let's put a long-term strategic plan in place these next few months and let's see where the brand can go."
What other investments is Fenix making in Royal Robbins? We are really excited about how Fenix is jumping in and investing in the brand right now. They're investing in marketing, primarily through our retail partners. In addition to marketing, a new headquarters and new hires, other investments they're making include a new IT system and a new distribution center. With that said, we can just focus on outdoor specialty and drive the business there.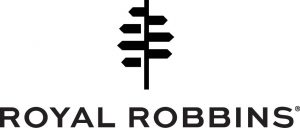 What else is new at Royal Robbins following the Fenix acquisition? Can you talk about the redesigned logo or new product for Outdoor Retailer? Our new logo is a big part of the brand building. We're really happy with what the new mark looks like. It's a combination of the travel signs that you see, which combines our focus on adventure travel and the Yosemite pine tree, which is our heritage story. We call it the travel tree, and it solidifies our embarkment on this journey to become really focused on the adventure travel as an activity. Everything that we're doing now from product perspective is really built around specific trips and climates and activities that you're doing on these trips. The product vision is to build stylish apparel that's also super versatile with a lot of functionality and sustainability and technology stories built for that adventure traveler. What you'll see for spring '19 is we've got five or six products stories around that—from Eco DWR to stain-release technologies to travel dry technologies to bug barriers to beat the heat technologies—that will be unveiled at OR.
Logo courtesy Royal Robbins