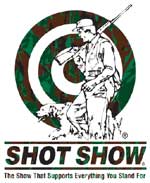 The 2010 SHOT Show kicks off on Tuesday, Jan. 19th, and the National Shooting Sports Foundation once again started the festivities with SHOT Show University, an interactive classroom-style program featuring industry veterans and experts speaking to hundreds of retailers, manufacturers and dealers within the hunting and firearms industries.
The SportsOneSource Group sent several representatives to the Sands Expo and Convention Center in Las Vegas, NV to provide readers with extensive coverage and analysis of the SHOT Show.
The 2010 SHOT Show University featured a variety of highly-respected industry veterans, including retail guru George Whalin, who delivered the keynote address regarding strategies for dealing with the ever-changing retail channel of the shooting sports and related industries. In the opening session, Whalin, who is the president and CEO of Retail Management Consultants, highlighted eight challenges for dealers and retailers and the measures necessary to overcome them.
Curt Jazwiecki, president and founder of Outdoor Business Network,Inc., a firm dedicated to providing e-commerce solutions to the Outdoor Industry, spoke on the importance of incorporating an effective and efficient utilization of e-commerce. Jazwiecky, who specializes in multi-channel retail, website architecture and development and internet marketing, emphasized the importance of providing customers with an easy-to-use, informative e-commerce tools to promote services and increase visibility.
Other speakers included retired ATF executive Wally Nelson; Rob Southwick, president of Southwick Associates, which monitors and evaluates the trends and business side of hunting, shooting and firearms industry; Christopher DiCenso, managing partner and founder of Growth Strategy Partners LLC, a strategy consulting firm that accelerates the revenue, profit and talent growth of entrepreneurially managed organizations by implementing the 7 Keys to Growth; and Tom Shay, a fourth-generation merchant and expert on the topics of promoting, customer loyalty, business management, target marketing, employee skills development and financial control.
Look for more coverage from SHOT Show University and the 2010 SHOT Show Thursday in Sportsman's Business Update and much more analysis on trends of the market in the next edition of Sports Executive Weekly.