Recent retail surveys and studies included McKinsey finding consumers optimism eroding amid spikes in COVID-19 cases in several states, and an IBM study detailed concerns over going back to work as well as to malls and other public places. Other surveys explored expectations for back-to-school and holiday spending, consumers' penchant to save and changing purchasing behavior amid the downturn.
…
McKinsey Finds Consumer Optimism Erodes Amid COVID-19 Spikes
McKinsey & Company's latest U.S. Consumer Sentiment survey of 1,923 adults conducted from July 7-12 found that with COVID-19 cases in the U.S. surging in the last several weeks, consumers' optimism has declined and back to levels seen in early May.
Across several measures, the improvement seen since early April slowed down, and the pandemic continues to affect consumer's behavior in several ways:
Shift to essentials and seeking value across purchases

— Only spending on "essentials" remains at, or above, pre-COVID-19 levels, while "discretionary" spending is still far from pre-COVID-19 levels. The recovery in intent to spend on "discretionary" categories seen since early April has been on the decline since mid-June.
Renewed concern for health, safety and "care" — Concerns over shopping safety (masks, physical barriers, etc.) increased since McKinsey's first measure in May. Companies' care for employees continues to be an important buying factor for some consumers.

Continued quarantining

— Consumers have not fully reengaged with out-of-home activities and many of those in local areas most affected by an increase in cases plan to pull back on engagement. More Americans are not engaging in a "normal" level of out-of-home activity (up to 73 percent from 70 percent in mid-July), nor do they plan to increase their engagement over the next two weeks. The net intent to reduce out-of-home activity is 30 percent.
…
IBM Study: Most U.S. Consumers Remain Unsettled
The most recent findings from an ongoing IBM Institute for Business Value (IBV) survey of U.S. consumers shows that Americans remain concerned about returning to the workplace in the face of the ongoing pandemic and expect further outbreaks of COVID-19 in the fall.
The survey, of more than 7,000 Americans in July, found:
72 percent reported that COVID-19 has made them more concerned about the safety and health for themself and their families (68 percent in June). The same percentage of respondents also said they worry about a second wave of COVID-19 later in 2020 (65 percent in June), and 66 percent expect to see more global pandemic-like events in the future (60 percent in June).
Once employees are able to return to their place of work, 84 percent of respondents indicated that they would still prefer to work remotely at least occasionally, up 3 percent from June. A growing majority also said they want employers to take clear and active measures to protect them from exposure to the virus when they return to the workplace while providing flexibility to help ensure mental health and well-being.
Americans are increasingly getting out of the house. Twenty-seven percent of respondents surveyed have visited restaurants and bars (compared to 21 percent in June). There has been a moderate increase in consumers who have visited a salon or barbershop, (1-in-4 have visited a salon or barbershop in July up from 17 percent in June). However, 35 percent of respondents don't plan to visit shopping centers or malls this year (compared to 27 percent in June). Sixty-six percent said they would not visit an amusement park (up from 59 percent in June) and 64 percent won't attend a live sporting event this year (55 percent June).
"The results from our ongoing survey underscore that consumer attitudes continue to shift as the effects of the virus fluctuate around the country, and consumers are preparing themselves for more permanent changes in behavior," said Jesus Mantas, senior managing partner, IBM Services.

Consumers Still Afraid To Shop In-Store
As more retailers require customers to wear masks while shopping in-store, a recent survey by First Insight found that the vast majority of women (80 percent) feel unsafe trying beauty products, 68 percent feel unsafe trying on apparel in dressing rooms and 61 percent feel unsafe trying on shoes. This represents an uptick compared to First Insight's last study in April when 78 and 65 percent of women felt unsafe trying on beauty products and apparel, respectively. The study also found that of the generations, Baby Boomers still feel the least safe returning to the shopping environment overall.
The study found that in considering where to shop, a growing number of consumers feel unsafe in shopping malls, warehouse clubs and big-box retailers. By comparison, consumers feel safer visiting essential businesses like grocery stores than they did in April with drug stores holding steady.
"Retailers need to be aware that while people are shopping, and there is definitely pent-up demand, many consumers are still very much afraid to be in-store and to try products or use dressing rooms," said Greg Petro, CEO of First Insight. "We are seeing increasing coronavirus case numbers in states across the country, and retailers are definitely solidifying their COVID-19 policies to help customers feel safer including mandating masks be worn, limiting people in-store and conducting temperature checks."
…
Major Shift To Online For Holiday Spending
AI solution provider Qubit's survey conducted in July with 809 respondents located in the U.S. and UK found 1-in-2 consumers do more than 75 percent of all their shopping online, and 1-in4 do more than 90 percent of their shopping online. More than 50 percent of consumers are shopping more with grocery brands, followed by fashion, beauty and cosmetics.
Exploring the upcoming holiday season, the survey found:
1 percent of shoppers said they would shop online more than they did before the pandemic, with 10.6 percent of shoppers said they would do less shopping online than they did prior to the pandemic;
44 percent of respondents plan to shop more online during this year's Black Friday, Cyber Monday and Christmas holidays as compared to last year's holiday shopping season; and
Less than 30 percent of consumers feel comfortable returning to stores, with 36.1 percent saying they plan to return in two months, and 18.9 percent of consumers returning in 2021.
Graham Cooke, CEO of Qubit, said, "The survey data also supports our view that a permanent shift in the balance of online and in-store shopping is occurring and is not likely to revert back entirely to pre-COVID-19 levels. Retailers are now forced to implement an expedited roadmap to their digital future or face extinction."
…
Deal Sensitivity On the Rise
The Valassis Modern Shopper report found that  70 percent of consumers have increased their savings behavior during the pandemic with 76 percent expected to continue these modified behaviors over the next year. Millennials, parents, and online grocery shoppers are more likely to have increased these behaviors than baby boomers. Those who have experienced a layoff, or reduction in income, are more likely to look for ways to save money and seek out additional savings using coupons and discounts.
The study also found that the cultural moments that converged in the first half of 2020 prompted consumers to care more about the value of the brands that they buy. Before the pandemic, most consumers (71 percent) said they want to buy from brands they trust. But when the pandemic hit, 84 percent of consumers said they appreciated brands who adjusted their message to be helpful during the stressful time.
The marketing intelligence firm concluded in its report, "Economic relief is certainly welcome during a pandemic and a recession, but as our findings uncovered, value comes in several forms and is highly dependent upon each consumer's specific situation and needs. For some, it might be achieved in extra time for self-care, for another, a deal that enables a non-essential "treat" purchase for themselves or someone else in their home. And for others still, perhaps it's in the relief of knowing that what they want or need will be available at the store or online when they're ready to buy."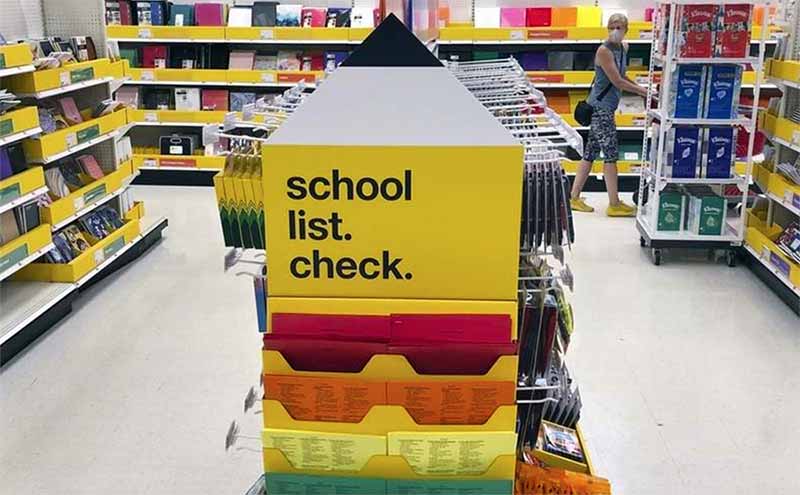 Back-To-School Spending Seen Rising
An International Council of Shopping Centers (ICSC) survey found that the average consumer expects to spend more on back-to-school items this year than in 2019, despite continued uncertainty over school openings. According to ICSC, back-to-school shoppers will spend an average of $1,053 on related items, up approximately $200 from last year, with increased spending on electronics and furniture.
It revealed that only 26 percent of respondents indicated school would resume regular instruction. Twenty-eight percent will resume school in an online-only format — an especially popular pursuit in the South (30 percent) and West (40 percent). As a result, shoppers indicated strong demand for electronics (59 percent) and home furnishings (45 percent) to accommodate the change, in addition to standard school supplies and clothing.
"It is encouraging to see consumers planning to spend more on back-to-school this year, especially in light of the uncertainties brought on by the pandemic," said Tom McGee, President and CEO of ICSC. "Ultimately, the goal is for students to resume their education safely and effectively. Retailers are doing everything in their power to meet changing consumer needs this back-to-school season."
…
Spending Pullback Expected Amid Downturn
A survey of 30,315 Americans from Piplsay conducted in early July found 71 percent have reduced their spending in anticipation of a recession or pay loss. Forty-three percent plan to restrict their purchases to only essential items this year and 54 percent expect their holiday shopping to be impacted amid the pandemic.
Asked which outside spends they plan the cut down this year, the top answer was travel, cited by 28 percent; followed by eating out, 24 percent; personal care like salons, gyms, etc.; 13 percent; shopping, 11 percent; movies, 9 percent; and none, 15 percent.
Piplsay said in its report, "The U.S. economy may have reopened, but given the ongoing health crisis and the looming financial threat, it will be quite sometime before consumers get back to their usual spending pattern."
Photos courtesy AP, Piplsay