Quiksilver, Inc. ended its fiscal year with decent sales growth given the overall environment and undoubtedly breathed a sigh of relief at finally having put the Rossignol acquisition fiasco behind it. A quarterly conference call with analysts saw the investment community worried about Quiksilver's ability to maintain liquidity, despite the increased sales.

Management noted that with Rossignol off the books, lenders view the company in a much different light and since earn-out payments to DC founders are now over, the company expects to return to generating free cash flow from its core businesses. That cash flow will in turn be used to pay down debt, which would be wise as the company now sits $1.06 billion deep, compared to a debt level of $857.4 million at the end of the last fiscal year.

Net sales increased 3.3% to $606.9 million for the fiscal fourth quarter ended October 31 from $587.3 million in the year-ago quarter. Gross margins declined 100 basis points to 48.1% of net sales from 49.1% last year, while SG&A expenses increased 130 basis points to 38.2% of net sales. Income from continued operations, excluding a goodwill charge, was $42 million, or 32 cents per share, for the fourth quarter, compared to $44 million, or 34 cents per share, in the fourth quarter of 2007.
In the Americas, net sales increased 9.7% to $306.9 million from $279.8 million last year.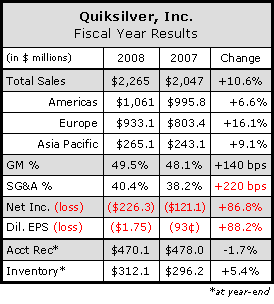 Americas wholesale revenues were driven primarily by additional shipments that were delayed in Q3 and some early shipments of DC products, along with incremental business from Latin America. The DC business in the Americas was said to have exhibited "good growth and strong demand," which enabled ZQK to ship an additional $10 million earlier than originally planned. However, the earlier shipments are expected lead to lower Q1 shipments for DC.
At owned-retail, four new stores in the quarter and 24 stores that have opened during the last year drove the Americas retail revenues higher by a double-digit percentage, offsetting modestly negative comps. Gross margins for the region declined 130 basis points to 40.8% of net sales from 42.1% last year. The margins contraction was compounded by a 270 basis point rise in SG&A expenses to 32.0% of net sales, which led to regional operating income dropping 49.5% to $18.0 million from $35.7 million for the year-ago quarter.

Sales in Europe slipped 3.7% to $216.3 million from $224.7 million last year, with gross margins down 40 basis points to 56.5% of net sales. Currency-neutral, net sales declined 6% for the fourth quarter. Owned-retail comps were down in high-single-digits but were offset by 13 new stores opened in the fourth quarter and 37 net new shops, including concessions that were opened in Europe during the fiscal year. SG&A expenses increased as a percentage of net sales to 44.7% of sales, up 180 basis points from 42.9% last year. As a result, operating income declined 20.8% for the region in the quarter to $24.7 million from $31.3 million last year.

The Asia Pacific region saw a 1.8% increase in net sales for the fourth quarter to $82.6 million from $81.1 million last year, but in local currencies net sales jumped 10%, boosted by a stronger performance in Japan. The region was the only one to post an increase in gross margins, up 130 basis points to 52.9% from 51.6% last year. However, SG&A expenses also increased for the region, up 60 basis points to 34.6% of net sales from 34.0% last year. The region reported an operating loss of $40.7 million for the quarter after a valuation associated with the company's Australian operation caused a $55.4 million impairment charge. For the year-ago quarter, the region saw an operating profit of $14.2 million.

Looking ahead, the company will have to record an impairment charge of $150 million for the sale of Rossignol in the first quarter of fiscal 2009 as the deal closed on November 20, after the end of the current fiscal year. Net sales "could be down" somewhere in the low-double-digits with a net loss of 10 cents per share. For the full fiscal year, revenues are anticipated to decline in the high-single-digits to low-double-digits range, driven by continued contraction of the marketplace and declines in the value of the euro and Aussie dollar compared with fiscal 2008.