Saucony has unveiled the Peregrin 11 Collection, a triad of grippy trail shoes built on its PWRTRAC rubber lugs and PWRRUN cushioning that "feels aggressive and responsive."
Named for the fastest bird, the Peregrin, the Collection includes the Peregrine 11, Peregrine 11 ST for muddy, sloppy conditions and the Peregrine 11 GTX with waterproof protection.
"With new runners and more traditional road runners taking to the trails in record numbers, the award-winning Peregrine is a trustworthy companion that excels in all that matters: traction, cushioning and durability," said Katie Pyle, product line manager for Saucony Trail. "The 11 builds on the shoe's winning formula of dirt-power goodness, being equally at home on the sandstone slick rock of Utah or at a 5K mud fest in Vermont. We know the Peregrine 11 Collection will inspire runners of all levels to revel in the challenge and the joy of off-road running, elevating their running experience while forging a deeper connection with themselves and the great outdoors."
The Peregrine 11 Collection
All three shoes of the Peregrine 11 Collection offer aggressive lugs made of PWRTRAC tacky rubber that conform to dig in and grip a wide variety of terrain. PWRRUN midsole cushioning provides flexibility, durability, responsiveness, and protection on the uphill and downhill. A rock plate provides underfoot protection while a mapped outsole guides the runner on where to place studs or drainage holes. The Peregrine 11 Collection is designed with a 4mm offset for the foot to move naturally while increasing the runner's proprioception and balance over tricky trails.
Peregrine 11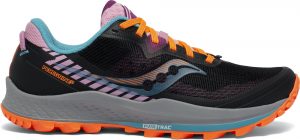 A dynamic upper uses an ultralight top layer to protect feet from trail debris. The shoe is "everything runners need to move fast over rugged terrain".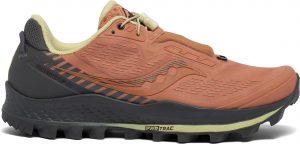 Peregrine 11 ST
Taking the responsive feel of the Peregrine 11, the ST (soft terrain) version is modified to excel in sloppy, muddy conditions. It's equipped with deeper lugs, spaced out to dig in and shed mud fast. The rock plate on the Peregrine 11 ST is enclosed for underfoot protection and to safeguard from the mud. Up top, a debris-resistant mesh upper with 3D-printed overlays protects against trail hazards and is finished with a tight mesh shield over the tongue for a final measure of defense.
Peregrine 11 GTX
Feet stay dry and comfortable in the waterproof Peregrine 11 GTX. Starting with the brand's most versatile and trusted trail shoe, the GTX version is packed with everything runners need to move fast over rugged terrain. A Gore-Tex upper is added for lightweight, flexible and waterproof protection.
Since the shoe debuted in Spring 2011, the Peregrine has been named by Runner's World as "Editor's Choice" four times.  The collection will be available at retail and online worldwide on February 1, 2021.