Annecy, France, November 7, 2019 — Salomon Sports, the global leader in trail running and winter sports equipment, unveils details of its developing Play Minded Program, which addresses the outdoor company's immediate and long-term commitment to operate in a more sustainable and socially responsible manner. Additionally, in the brand's new Experience Store in Munich, Salomon has this week lifted the curtain on the concept for a new running shoe that can be fully recycled into a ski boot shell.
The Salomon Play Minded Program consists of four key focus areas, all with specific objectives:
Protecting the Playground (the places where outdoor lovers practice sports).
Producing more sustainable Toys (the Salomon products used to practice those sports).
Educating the Players (the people who make up the communities of our outdoor sports).
Caring for the Playmakers (the people around the world who create Salomon products).

To reduce Salomon's impact on the environment, the company has pledged to reduce its overall carbon emissions by 30 percent by the year 2030. Salomon will also eliminate perfluorinated compounds (PFCs) across all equipment categories by 2023. PFCs will be non-existent in Salomon footwear by the Fall of 2020, in gear by 2022, and in winter sports equipment and apparel by 2023.
By 2025, 70 percent of the waste created by Salomon's operations will be recycled or re-used and the environmental performance of every Salomon product will be visible to the consumer. Also, by 2025, 100 percent of top-tier materials suppliers will have signed or otherwise demonstrated compliance with category-level Materials Compliance Programs and Restricted Substances Lists (RSLs).
Concept Shoe a Step Toward 100-percent Circular Economy Product Design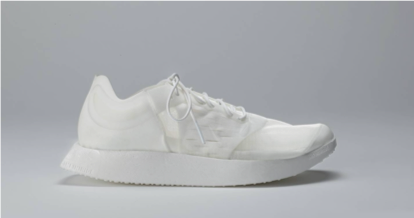 The concept for a fully recyclable running shoe is the first step in Salomon's commitment to have 100 percent of its new products designed to one or several of the company's circular economy principles by 2025.
As a leader in running and the world's largest ski boot manufacturer, the shoe provides a uniquely Salomon solution to footwear sustainability that extends the life-cycle of the materials used. It is made completely of thermoplastic polyurethane (TPU), which can be ground down at the end of its life and then combined with pre-consumer material to be used to construct an alpine ski boot shell.
"We recognize that we have to do better for the environment by creating Salomon footwear that drastically reduces its impact on the planet," says Guillaume Meyzenq, V.P. of Salomon Footwear. "By creating this concept shoe that can be recycled into a ski boot shell, we are showing that it is possible to find alternative materials to create performance footwear. It's an exciting development that will help lead us to more sustainable footwear solutions in the future."
An Educational Role to Play
The Salomon Play Minded Program is based on the simple belief that the more people understand and appreciate their outdoor surroundings and their impacts on it, the more they will value it and care for it. The brand will award grants to a variety of organizations that Salomon athletes are involved in, and continue to fund the Salomon Mountain Academy and the Salomon Foundation. The Foundation has been providing services to injured mountain professionals and competitors in need since 1999.
Learn more about Salomon's Play Minded Program at salomon.com/en-int/sustainability.
New Munich Location
In October, Salomon opened its first retail location in Munich, the Bavarian city known as Germany's outdoor capital and a gateway to the Alps. The brand sees Munich as the perfect location to showcase Salomon's broad assortment of footwear, winter sports equipment and apparel and gear.
View the full press release here
About Salomon: Born in the French Alps in 1947, Salomon is committed to pushing the boundaries of mountain sports through the creation of innovative equipment that allows people to play, progress and challenge themselves in their chosen outdoor sports. The company produces and sells premium footwear, winter sports and mountaineering equipment, hiking equipment, and apparel specifically designed for all of those disciplines. Products are developed in the company's Annecy Design Center, where engineers, designers and athletes collaborate to create innovative solutions that continually improve the outdoor experiences of those who see nature as a vast playground. www.salomon.com
Media Contact:
Emily Banks
Emily.banks@rygr.us
970-924-0704 ext. 103