Salomon released its Index.02 running shoe improving and building upon the Index.01, which the brand introduced two years ago.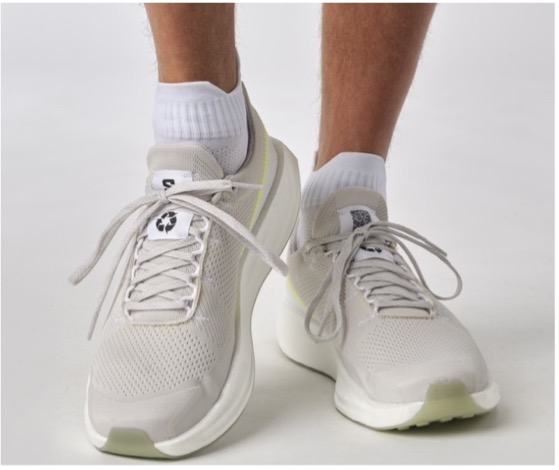 As with its predecessor, the Index.02 is 100 percent recyclable; it's also 10 percent lighter (263 grams from 288 grams sample size US 9 men's) and features an upgrade in comfort and performance due to improvements in the midsole geometry, foam quality and upper construction. Most notably, the midsole foam and midsole geometry deliver smoother transitions from stride to stride. The comfort comes from lightweight Infiniride TPU foam that is fully recyclable.
The shoe's upper was updated with an engineered mesh, with weave variances for support and breathability, better flexibility/durability, more colors, softer materials, and premium finishes.
"The foam is less dense on the Index.02, so it feels cushier," said Laurent Coudurier, Salomon Footwear R&D manager. "We also removed some bits in the upper, bringing the shoe closer to the foot. Our goal is to provide the same level of performance as the rest of our road running shoes, and we're getting there."
Like its predecessor, the Index.02 construction could be disassembled at the end of its life so that the materials can be recycled and used to make a new product. A subtle line along the shoe shows where it could be split when recycled. The different colors on the upper and bottom of the shoe help to highlight that the shoe uses two materials and that it could be separated at the end of its life.
A QR code on the tongue of one shoe allows the owner to scan and register it after purchase, making it easy to return for recycling at the end of its life. Like Index.01, when Index.02 shoes are sent back for recycling in Europe, the materials are used to make Salomon's alpine ski boots.
Available to consumers in 2021, the Index.01 was Salomon's first shoe designed to be recycled, with the recycled materials being used in the construction of Salomon's MTN Pure ski touring boot range.
"We started researching materials for the Index.01 shoe about five years ago, looking to reduce its impact," said Coudurier. "With this new Index.02 model, we're getting closer to providing the same level of performance as the rest of our road running shoes."
"A lifecycle analysis identifies the biggest environmental impact during the product lifecycle to work on reducing it," said Olivier Mouzin, footwear sustainability manager.
The way the Index.01 is made and the fact that it can be recycled reduces by 44 percent the amount of CO2 compared to a traditional shoe, which is 4.9kg of CO2 Eq less for every pair. The emissions from the lifecycle of Salomon's Sonic 3 are 11.2kg of CO2 Eq. The Index.01 emits 6,3kg of CO2 Eq. Water eutrophication is reduced by 70 percent, and water acidification is reduced by 35 percent.
"The Index.01 is a great start for sustainable footwear. We can test this new, simple design and its performance on the road and test out the collecting and recycling process," Mouzin explained. "As the lifecycle analysis shows, the impact of the shoe is reduced by 44 percent, which validates our work and encourages us to develop more footwear products following this circular economy concept. Now, with the Index.02, we continue improving the quality, comfort and performance of a fully recyclable shoe. It's very encouraging."
Photo courtesy Salomon