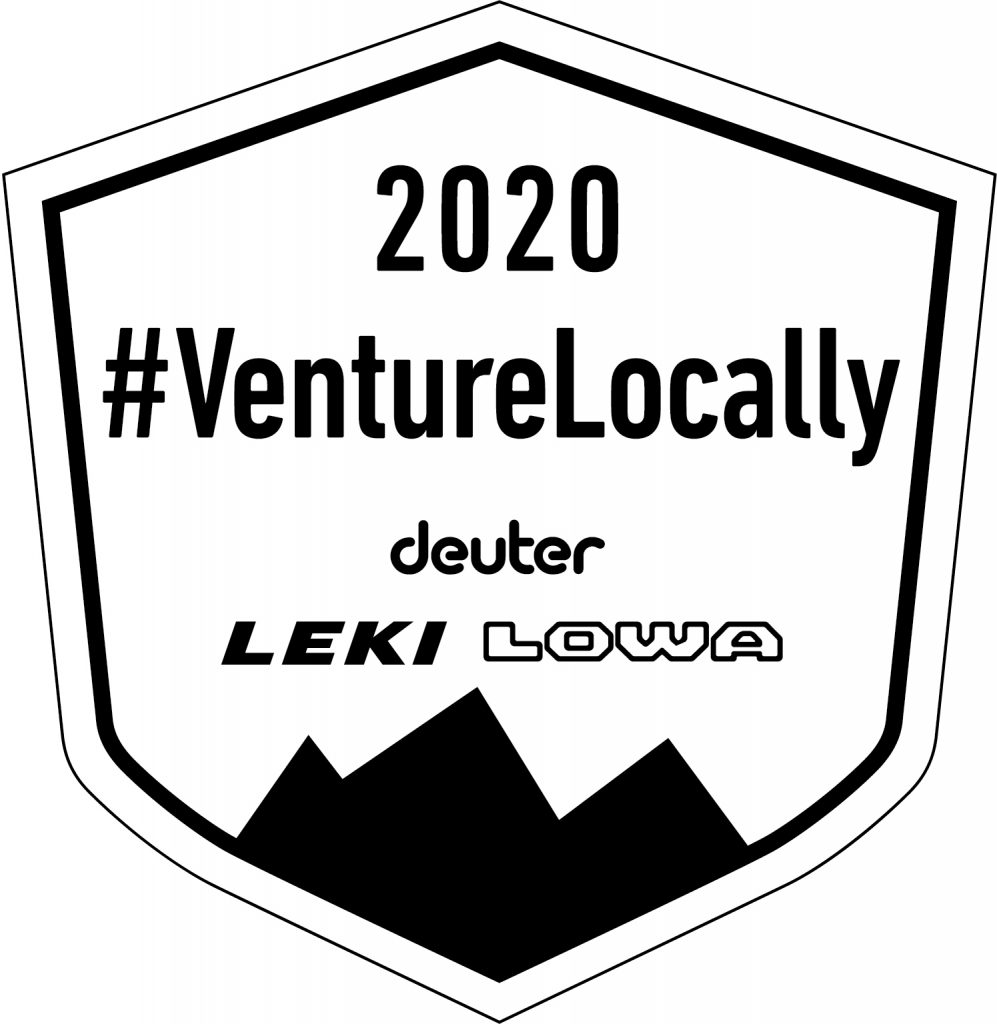 Buffalo, NY, May 29, 2020 – Deuter, LEKI and LOWA announce the launch of the #VentureLocally campaign, a 12-week long Instagram contest starting Monday, June 1, that encourages people to responsibly get back outdoors during this public health crisis. To participate, people should post a photo or video on Instagram that shows what getting outdoors in their own communities means to them. One lucky winner will be chosen each week and will receive a prize package that includes awesome gear from all three companies, including packs, poles and boots.
Challenge organizers will provide examples each week of what it means to #VentureLocally. Post a photo of a beautiful sunset, show how you choose to celebrate National Trails Day, share a video clip of a fun hiking day with your dog, snap your favorite yoga pose, or share your most creative family backyard camping site. The possibilities are endless. Posts must be set to public with the tags @deuter_usa, @lekiusa and @lowaboots, and hashtag #VentureLocally.
"These three outdoor brands with German heritage have always had a connection, but now more than ever it's important for us to come together to promote getting back to nature safely and responsibly within our own communities," said Peter Sachs, General Manager of LOWA. "We hope to add some fun and guidance to these otherwise unusual circumstances to help Americans get outside this summer."
Participants can start posting on June 1 and weekly winners will be chosen on each Monday of the 12-week long campaign.
About Deuter: From backpacking to bike commuting, alpinism and travel, to child-carrying and family adventures, Deutercreates better and more comfortable packs for everyone and everywhere. With over 121 years of pack building experience, Deuter has played a vital role in shaping mountaineering history since its 1898 founding in Germany. Its values of sustainability, passion, family, pioneering and meisterlich—German for excellence at one's craft—have driven Deuter to be a leading global backpack brand. From developing the first framed pack in 1930, to being the pack of choice for the first ascent of the north face of the Eiger by Anderl Heckmair in 1938, to inventing the original bike-specific backpack as well as the very first ventilated mesh back system in its Aircomfort packs, Deuter innovations have shaped the pack industry since the beginning. deuterusa.com
About Leki: Founded in 1948, LEKI is a leading manufacturer of Skiing, Trekking and Trail Running poles and gloves, and its latest addition of folding camp chairs and tables. LEKI products are German engineered with most of the products being made in the company's Czech Republic factory. This in conjunction with extensive research and independent testing make the best products featuring quality, value and technology. LEKI USA, Inc., headquartered in Buffalo, NY, is the sole distributor of LEKI brand products in the United States. leki.com
About Lowa: LOWA Boots LLC, with headquarters in Stamford, Connecticut, is a subsidiary of LOWA Sportschuhe Gmbh, a German outdoor footwear manufacturing company that was founded in 1923. The U.S. company, launched in 1996, sells, markets, and distributes a complete line of four-season outdoor footwear for walking, hiking, backpacking, and mountaineering, plus collections for tactical and everyday use.lowaboots.com