Brooks Running Company debuts this year's Boston themed shoe, the Boston "T" Launch 6. Inspired by the city's infamous transportation system and the spirit of running in Boston, the shoe is a memento for those who run in the city. The limited-edition Boston "T" Launch 6 will be available beginning March 28 at retailers and online at brooksrunning.com/boston .
"For runners passionate about logging miles in the storied streets of Boston, we want to help them find inspiration with an entirely new design," said Brice Newton, director of footwear merchandising. "We love that the maps of the city streets and infamous subway system speak to the experience of running and racing in Boston, and that we can give a wink to our past iterations of the shoe with a few playful lobsters on the shoe."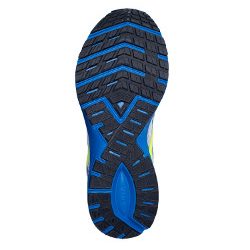 The Launch 6 features a new engineered, one-piece mesh upper and internal bootie for a breathable and lightweight fit. The shoe's BioMoGo DNA midsole and rebounding rubber outsole offer a springy feel underfoot while a Midfoot Transition Zone gets the runner from heel to toe quickly. On the limited-edition Boston "T" Launch 6, a map of Boston's iconic subway system wraps the heel while street and subway map lines cover the heel collar and tongue. The words "Boston 2019" appear on the heel, and in a nod to previous Boston-inspired Brooks shoes, red lobsters appear on the heel, tongue and insoles.
The Brooks Boston "T" Launch 6 will be available for men and women beginning March 28 for $100. Additional information about the shoe can be found online at brooksrunning.com/boston.
About Brooks Running Company
Brooks Running Company sells its performance footwear, apparel, sports bras and accessories in more than 50 countries worldwide. Brooks' purpose is to inspire everyone to run and be active by creating innovative gear designed to keep runners running longer, farther and faster. This purpose is supported by Brooks' Run Happy philosophy, a quest to celebrate and champion the sport of running and all runners everywhere. Founded 1914, Brooks is a subsidiary of Berkshire Hathaway Inc. and is headquartered in Seattle. Visit www.brooksrunning.com for more information or follow us on Twitter (@brooksrunning), Facebook (www.facebook.com/brooksrunning) and Instagram (@brooksrunning).