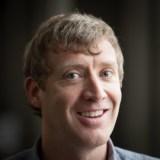 Outdoor Research this week promoted Dave Mahoney, picture at right, its director of commercial sales for the past five years, to VP of sales.
In his new role on the company's executive team, Mahoney will direct all commercial sales efforts in North America, as well as oversee global commercial sales outside of Europe. European sales will continue to be managed by Maurice Brenninkmeijer, who oversees Outdoor Research's European headquarters in Switzerland.
Before joining the Outdoor Research team, Mahoney worked for several years as the director of sales for Cloudveil. Prior to that, he held a number of sales positions within the outdoor industry, including key account sales manager for EJ Footwear and working as a sales rep in the Rockies. He also managed an outdoor retail shop in Winter Park, Colo., for several years.

"Dave brings a wealth of experience to the job, both in his time here and elsewhere," said Outdoor Research President Ken Meidell. "I have known Dave for many years both personally and professionally. His combination of experience, work ethic and passion for the sales process made him an easy choice for this role."

Mahoney takes over the VP role effective immediately.
"I look forward to contributing to the ongoing global success of Outdoor Research through improved sales strategies, better brand awareness and continued partnering with all those who have driven the brand to where it is today," he said.