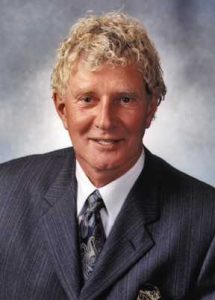 Curt Mueller, a 2002 Sporting Goods Industry Hall of Fame inductee and the founder of Mueller Sports Medicine, passed away in his sleep on October 19, 2019 at the age of 85 in Prairie du Sac, WI.
Mueller founded Mueller Sports Medicine in 1959, coining the phrase "sports medicine." Over the last 60 years Mueller grew the company into a global powerhouse in the sports medicine industry with many inventions, patents, and successful product lines including the iconic Quench Gum. Probably the most significant achievement was his invention of the retail sports medicine category under the Sport Care brand which has grown into a large retail category in and of itself. The company currently does business in over 100 countries around the globe with a subsidiary in Yokohama, Japan and warehouses in the Netherland's and China.
Mueller Sports Medicine has been the major sponsor of the National Sporting Goods Association's (NSGA) Team Dealer Summit since it was added to the Management Conference in 1999.
"We were deeply saddened to learn of the passing of Curt Mueller and we extend our sincerest condolences to his family and everyone at Mueller Sports Medicine," said NSGA President AND CEO Matt Carlson, in a statement. "Curt is one of the icons of the sporting goods industry and did so much to advance sports medicine. His vision helped countless athletes at all levels recover quickly and get back to doing what they enjoy by using Mueller Sports Medicine products. He invented the retail sports medicine category.
"Curt and his family have been huge supporters of NSGA, the sporting goods industry and the team dealer community for so many years. We will miss the energy, enthusiasm, and insight he brought to every conversation."
Mueller was a three-time letterman in basketball for the University of Wisconsin from 1953-56 and graduated with a degree in pharmacy in 1957. He saw the need to raise the standards of athletic training room supplies being sold to schools and started that business on a part-time basis in the basement of his father's pharmacy, where he was working full-time, in Prairie du Sac.
Mueller's many innovations included the development of Quench Gum in the mid-1970s. In 1984, his company introduced a full line of patented sport braces and neoprene supports to the retail market. Then came the revolutionary step of offering his products to the "weekend warriors" and introducing point-of-purchase packaging for its entire line.
He literally created sports medicine departments for retailers with concepts that allowed retailers to merchandise the maximum amount of products in a minimal amount of space. He also produced an inventory control service, and retail challenge videos and held seminars to train store clerks on how to effectively sell sports medicine products and merchandise.
Mueller remained an avid supporter of his alma mater and its athletic department. The Mueller Sports Medicine Center is part of Wisconsin's student-athlete performance facility. The school also has the Mueller Sports Medicine Endowment Fund for Athletic Training.
"Having coached for a number of years, I understand the extreme importance of the sports medicine care our student-athletes receive," Wisconsin Director of Athletics Barry Alvarez said in a 2014 Mueller Sports Medicine blog post. "With the help of Curt Mueller's generosity, we are able to give our student-athletes the best care possible in a state-of-the-art facility. I've known Curt personally for a number of years and love his passion for the Badgers. We are very appreciative of his support for UW student-athletes."
Mueller is survived by his sister, Barbara (Gerald) Erickson; three children, Jeff (Michele) Mueller of Wilmington, NC., Brett (Dawn) Mueller of Middleton, WI., and Ginger Mueller-Mann of Porter Ranch, CA. Grandchildren; Steven Mueller, Stephanie (Shawn) Mullery, Kelli Mueller, Kristopher Mueller, Jesse Mueller, Bryan Mann, Blake Mann, and Sean Mann; and Great Grandchildren, Silas Mullery, Isla Mullery, and Zuly Mueller. He is further survived by his nieces, nephews, and dedicated Mueller Sports Medicine team members. He was preceded in death by his parents; and a sister Beverly Kohlman.
A private service was held on October 25, 2019. A Celebration of Life will be held November 30, 2019 at the SAUK PRAIRIE RIVER ARTS CENTER, located at the SAUK PRAIRIE HIGH SCHOOL, 105 9th Street, Prairie du Sac. Visitation will be from 10 a.m.-1 p.m., and memories of Curt will be shared at 1 p.m. A gathering will follow at Lake Wisconsin Country Club, N1076 Golf Road, Prairie du Sac, Wisconsin.
In lieu of flowers, tributes in Curt's memory can be made to the UW-Madison Athletic Training Scholarship Fund, www.supportuw.org/giveto/atpscholarship.
Photos courtesy Mueller Sports Medicine