By Thomas J. Ryan
Nordstrom's sales tumbled 40 percent during its first quarter, but officials said aggressive steps to reduce inventory and preserve cash will help the retailer in the near term while an accelerated expansion of its online and off-price business will better position the company for the long term.
"As retail continues to evolve, our flexible model supports a continued shift from what was predominantly a mall-based business toward a more diversified model that includes digital and off-price," said Erik Nordstrom, CEO, on a conference call with analysts.
The coronavirus forced Neiman Marcus, J.C. Penney and Stage Stores to file for bankruptcy protection with the department store in recent years struggling to adapt to the shift to online selling and facing lower traffic to malls and shrinking apparel sales.
In the quarter ended May 2, the net loss came to $521 million, which included after-tax asset impairment charges of $173 million for store closures, premium pay and benefits and restructuring-related to COVID-19.
Nordstrom recently announced plans to permanently close 16 of its 116 full-scale department stores as well as three Jeffrey specialty boutiques. Nordstrom said most of the impacted stores are in markets that have multiple full-line stores and are more than 20 years old. The Trunk Club business is also being integrated into the Nordstrom styling offering across stores and online. The charges in the quarter were only slightly offset by credits from the Coronavirus Aid, Relief and Economic Security Act (CARES Act).
The loss in the quarter compares to earnings of $37 million, or 33 cents a share, a year ago.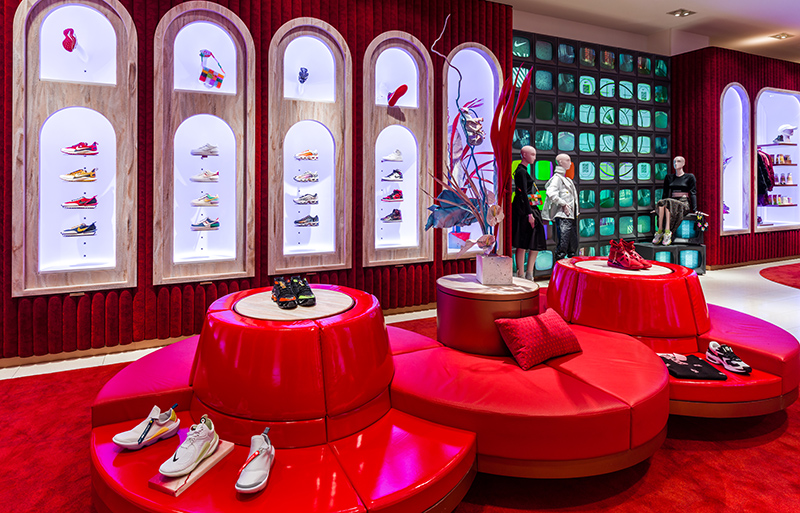 Revenues Drop 36 Percent At Full-Price Stores And 45 Percent At Nordstrom Rack
Net sales in the quarter were down 39.5 percent to $2.03 billion.
In Full-Price stores, sales decreased 36 percent while Off-Price sales from the Nordstrom Rack chain decreased 45 percent. The declines were due to temporary store closures beginning March 17. Full-Price results benefited from having a more established e-commerce business, including store fulfillment capabilities, which was enabled in Rack stores late in the quarter.
Said Nordstrom to analysts, "Prior to the closures, we saw strong momentum from the second half of 2019 continue into February with positive sales growth. These closures had a meaningful impact on our financial results as stores made up two-thirds of sales in 2019.
Online demand, which reflects customer orders and therefore removes the timing impacts of shipments and returns, grew 9 percent, consistent with the second half of 2019. Total digital sales grew 5 percent to $1.1 billion in the first quarter. While stores were temporarily closed, e-commerce experienced significant growth in new customers of more than 50 percent.
Anne Bramman, CFO, said that as the pandemic began impacting consumer behavior, the retailer leveraged its marketing and promotional capabilities to stimulate sales and appeal to customer interests, including a series of targeted promotions to clear seasonal inventory. She said, "Our digital experience highlighted relevant categories such as wellness and comfort, which contributed to top-performing divisions in home, sleepwear and active. As we anticipated, our softest divisions were men's apparel, dresses and designer apparel."
Gross margins were reduced to 11 percent of sales from 34 percent for the same period in fiscal 2019 due to incremental markdowns to clear excess inventory and deleverage from lower sales volume.
Inventory Reduced 26 percent
On the positive side, inventory at the quarter's end decreased 26 percent year-over-year resulting from the company's aggressive action to reduce receipts and clear excess inventory through increased marketing and promotional activities.
The inventory reduction resulted from efforts during the quarter to decrease receipts by approximately 30 percent, stimulate demand through increased marketing and promotions and utilize store fulfillment capabilities. At Nordstrom Rack, receipts were canceled beginning in March through the second quarter allowing the chain to take advantage of closeouts in the marketplace this fall. Additionally, the Off-Price business, which makes up a third of sales, can help clear excess Full-Price inventory. This favorable inventory position enabled the company to bring in newness for customers beginning in June.
SG&A expenses, as a percent of net sales, increased to 55 percent from 34 percent. Excluding charges related to COVID-19 of $250 million, total SG&A decreased approximately 25 percent from last year, primarily due to lower sales volume in addition to reduced overhead labor costs in response to the store closures.
The income tax benefit of $326 million, or 38 percent of the pretax loss, reflects a higher projected benefit rate for fiscal 2020 due to the carryback of net operating losses as permitted under the CARES Act.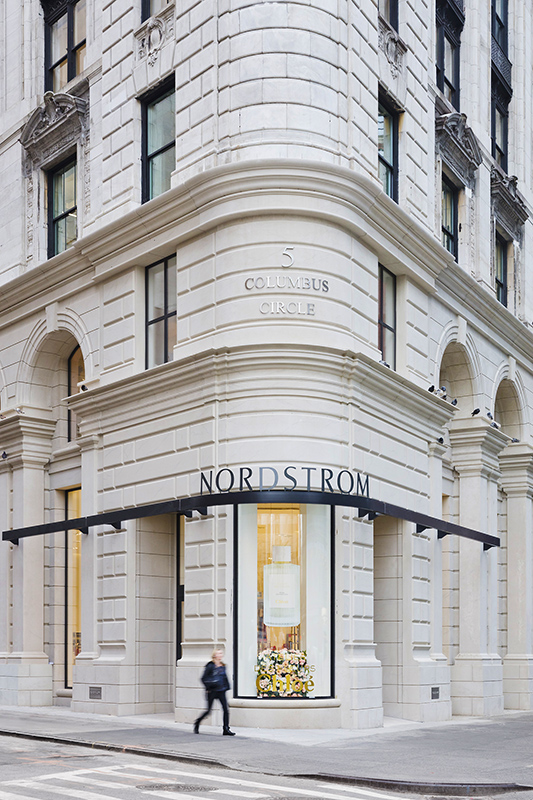 Cash Burn Reduced More Than 40 Percent
The company entered the year with cash of approximately $850 million and increased its position to approximately $1.4 billion by the end of the first quarter. Its cash burn was reduced by over 40 percent as Nordstrom drew down and amended its $800 million revolver, issued $600 million in senior secured notes and suspended dividends and share repurchases. In addition to its planned expense savings of $200 million to $250 million, the company is on track to deliver further cash savings of more than $500 million in operating expenses, capital expenditures and working capital in fiscal 2020. These savings include a reduction in non-occupancy overhead expenses of approximately 20 percent on an annualized basis.
"As we continue to navigate through this uncertainty, we're taking a cautious and thorough approach in planning our business,'' Bramman said, adding she hopes all stores reopen by the end of June, including in California, within a couple of weeks, then New York. "Our scenario plans and stress testing contemplate a slow recovery and a continued promotional environment.''
Omnichannel Strategy Accelerated
Nordstrom said its "market strategy" that enables customers to shop seamlessly across multiple touchpoints, including its two brands Nordstrom and Nordstrom Rack, in stores and online provides the flexibility to adjust to changes at retail that have been accelerated by the coronavirus pandemic.
"We see tremendous synergies from this model," said the CEO. "When customers shop across more than one of these touchpoints, their spend increases 4-to-11 times on average. Additionally, our off-price business continues to be our greatest source of new customers, and nearly 30 percent of off-price customers cross-shop in Full-Price.
He noted that in 2019, off-price and e-commerce accounted for nearly 60 percent of sales while its U.S. mall-based/full-line stores accounted for 38 percent while contributing positive cash flows.
The retailer is forging ahead with plans to combine its Full-Price and Off-Price teams across regions to create a leaner and more flexible organization. The size of its corporate teams is also being reduced to increase agility. Technical investments include scaling its end-to-end platforms to support a single view of customers, inventory and product as well as integrating physical and digital capabilities in off-price.
Nordstrom told analysts that off-price is "just a huge part of our future" because of the way Nordstrom Rack complements its other businesses. He also noted that they're profitable, mostly in non-mall locations, and generally have shorter leases to support any need for relocation. Said Nordstrom, "In these uncertain times going forward, our off-price stores give us a lot of flexibility."
Asked about sales performance as stores have reopened, Nordstrom said, "There are two trends. One, more outlying stores are performing a little better than more densely populated areas. I think that makes sense. The second part, our Off-Price, our Rack business, is outperforming expectations. Our Full-Price business is not in line with expectations."
Photos courtesy Nordstrom