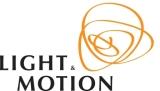 Light & Motion, which specializes in designing and making lighting systems for recreation and other outdoor uses, is launching a branding refresh across its marketing and sales platforms, including a complete redesign of its website, lightandmotion.com, and new packaging design.
The new website launched last week (March 20) and new packaging will start appearing in July. The refresh coincides with the company's recent move into a new and larger facility in Marina, CA, reinforcing the company's commitment to manufacturing in the United States and expanded product offerings.
The branding refresh showcases the versatility of the Light & Motion products. Now customers can visit the new website to find the perfect light by activity – on bike, on foot, on water and underwater. From there, consumers can hone in on a specific use, plus discover other activities for which the product works well. The multi-activity presentation is also reflected on the new packaging.
"We know our customers are engaged in multiple activities, from cycling and camping to running and diving. Our lights are equally versatile, and we wanted our brand experience to reflect that," says Daniel Emerson, CEO of Light & Motion. "Our goal was to expand the website to be able to provide a better experience in every way a customer touches the brand: from the pursuit of knowledge to product specifications, to customer service."

The rebranding is all part of Light & Motion's commitment to growth which included the company's move to its new 28,000-square-foot facility in Marina, California in February 2014. The new headquarters doubled the company's local footprint, enabling it to meet its growing business needs, from development and production to fulfillment.