By Eric Smith
Keen Inc.'s branding position has always been about more than designing unique footwear like the closed toe Newport sandal, which just celebrated its 15th anniversary.
The family-run, Portland, OR-based company also tries to differentiate on the values the company promotes around the globe to brand-loyal consumers and in communities wherever Keen products are worn.
"We are not just here to make shoes" is a Keen credo manifested in a variety of outreach efforts, such as employees volunteering for disaster relief, corporate donations to charitable causes and a companywide emphasis on promoting sustainability.
It's also at the heart of Keen's newest campaign, "Better Takes Action," which taps into the company's longstanding philosophy that doing good, giving back and reducing impact through actions big and small can make a better world—the "Keen Effect," as it's known.
Tyler LaMotte, Keen's chief marketing officer, recently spoke with SGB about Better Takes Action, which was unveiled at this year's Outdoor Retailer + Snow Show and is ramping up with a variety of initiatives. LaMotte said the campaign is a "call to action" designed to exemplify the company's beliefs in protecting public lands, forming strategic partnerships with likeminded organizations and promoting healthy outdoor lifestyles.
"We said, 'let's inspire change within our fan base,'" LaMotte said. "And the only way to truly change something if you want something better is to take action and do something about it. That was a great premise for us to look foundationally at creating a call to action for a campaign that inspires what better can look like."
Better Takes Action began with Keen setting up a phone booth at Outdoor Retailer + Snow Show so anyone at the event could stop by to call their Congressional representatives and voice concerns over any issue. But there is much more to Better Takes Action than dialing up Washington politicians. It is about inspiring Keen fans to take action today for a better tomorrow.
Here's what else LaMotte had to say about Keen, the Better Takes Action campaign and why enacting change is just as important as selling shoes.
One of the first outreach efforts for Better Takes Action was a "call to action" phone booth at OR so attendees could call their representatives. Why was/is that so important? Civic engagement is one area where we're obviously very switched-on about the brand. Hence, the idea of the phone booth where you're taking such a familiar, old-school form, but really recognizing that it represents a lot of power for people to have their voices heard. Just like voting really matters, voicing your opinion on the things you care about to your elected officials obviously is essential. [OR attendees] could pick up the phone, call the Capitol and be directed, based off of their ZIP codes, to their representative and voice their issues. That is so simple, but it's rarely done. Picking up the phone is different than just adding your name to an email chain as a mass email that's going to go into an inbox. It's more personalized.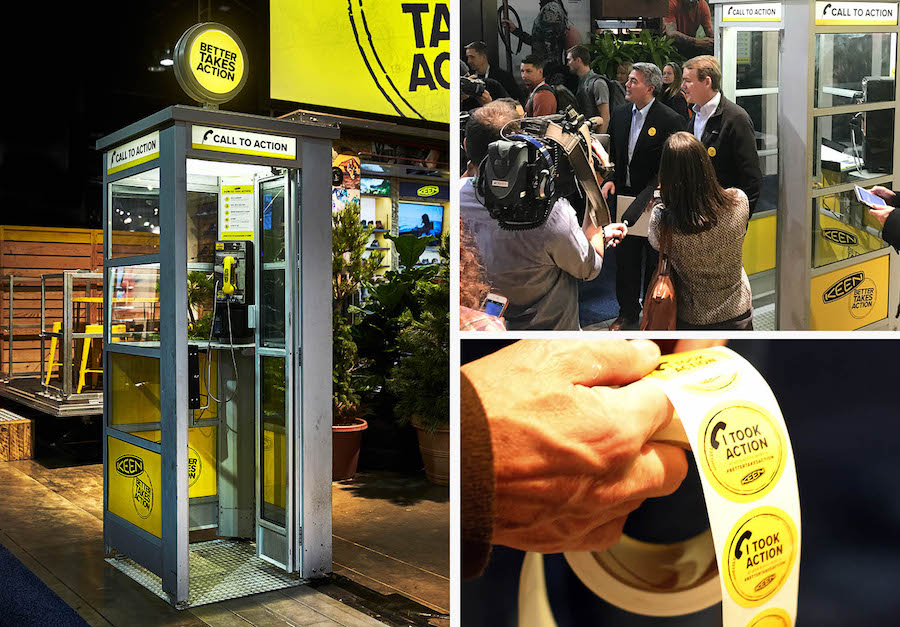 What else is this campaign inspiring? We're taking action to help people discover a better world through travel. We're taking action to get entire families outside to experience nature. We're taking action to encourage cultural experiences by discovering new communities and new people to engage with and make your perspectives wider and essentially better. We asked ourselves the question, 'Don't we all want better?' A better environment, better air, better policies, better education, better product? Better Takes Action is a great narrative that weaves into everything that we're doing.
Keen's Uneekbot tour takes the "world's smallest shoe factory" around to college campuses to showcase the company's emphasis on innovative design; is that part of this effort as well? Better product takes innovation. What we're driving with the Uneekbot tour at design schools and engineering schools is showcasing not only the product itself but what Keen is doing as a "business unusual" to drive innovation. We're engaging with these design and engineering students to get them super excited about what we're up to from a completely different angle versus our traditional outdoor marketing. It's a great opportunity to engage more fans around the Better Takes Action campaign, but also who we are as a company, how we do things our own way and how we are innovative.
How are you measuring the impact of this campaign? Is it about getting ROI, adding brand enthusiasts, improving communities—or all of the above? For the phone booth, we have call logs. On the email campaigns, we can look at traffic and conversion and we can measure reach and how many emails we send. Social engagement of course is easily measured. But the experiential side of our brand is also important. So we have a lot of events with partners where we bring the brand to the fan. Then we can clearly see what that engagement is in a certain market and see who wants to sign up for our email list, who wants to engage with Keen, who wants to get involved with the Better Takes Action initiatives.
Wouldn't it be easier for Keen to just focus on making and selling footwear and striving for a quarterly profit? What is the value for Keen in all this? The beauty of Keen is we're a family-run business, and that allows a lot of latitude. You can truly lead with values because you're not beholden to a publicly traded entity. You're not beholden to private equity. You're really essentially beholden to the vision of the owner and the founder and the leadership team that represents the broader organization. So when we think about the vision, we want to be the leading footwear brand for life outside. Our values are sound, whether it's quality or integrity or health or pioneering or caring. A lot of our strategies and the things that we're doing weave constantly through the values of the organization and we continuously reinforce those within our teams.
Do you believe that by giving back to communities you'll also drive sales by building brand evangelists in this process? Totally. We've always done this. Open, honest, transparent, approachable, communal inclusiveness is part of who we are, but now, let's think about the future. We of course want to continue to embrace more fans and bring more people in, and by being those ways, being values-led, we believe we can do that.
Anything else on the horizon that you can discuss related to Keen's branding and marketing efforts surrounding the Better Takes Action campaign? We're going to continue to kick ass until things get better. Things are changing every day and we believe we can inspire people, be a part of the narrative and be a force for change. Better Takes Action is going to be with us for a while as a grounding message to inspire our fans and communities that through action we can make a better world. 
Photos courtesy Keen