By Thomas J. Ryan
Johnson Outdoors Inc. reported sales rose 23 percent in the first quarter ended December 27. The gains were helped by a delay in the prior-year first quarter and the availability of new products in the Fishing segment but all other segments, including Watercraft Recreation and Camping, showed solid gains in the period.
The quarter is a seasonally-slow period as sell-in has just started for summer activities.
"Overall, a positive start to the fiscal year," said Helen Johnson-Leipold, chairman and CEO, on a conference call with analysts. "We're benefiting from our intense ongoing focus and richer consumer insights and targeted innovation in accelerated digital sophistication. Continued investments in these priorities are essential to position our brands for success throughout the rest of the fiscal year."
Revenues reached $128.1 million versus $104.4 million in the prior-year period.
Gross margins eroded to 41.9 percent from 42.4 percent due primarily to an increase in tariff expense. As a result of recent developments and trade negotiations between the U.S. and China, as well as the company's own mitigation efforts, Johnson Outdoors now expects the impact of tariffs to be in the range of $4 million to 5 million on fiscal 2020 profits, down from $5 million to $6 million previously.
Operating expenses rose 22.1 percent due to higher-volume related expenses, and the impact of favorable market conditions on the company's deferred compensation plan assets. As a percent of sales, operating expenses eased to 36.6 percent from 36.7 percent.
Operating profits improved 13.3 percent to $6.8 million from $6 million, held back by $3.4 million of higher deferred compensation expense in the current year quarter.
Net income catapulted 82.9 percent to $6.4 million, or 64 cents a share, from $3.5 million, or 35 cents, a year ago. A gain in other income offset the higher deferred compensation expense.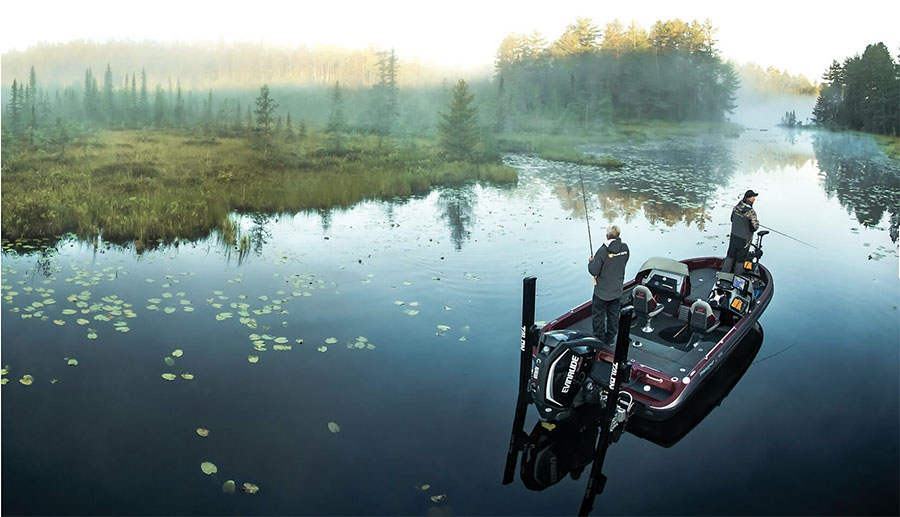 Fishing Sales Climb 26.0 Percent
Fishing, by far its largest segment, saw revenues climb 26.0 percent to $99.3 million. Operating profits rose 31.5 percent to $15.0 million. Brands in the segment include Mann Kota fishing motors, batteries and anchors; Cannon downriggers; and Hummingbird marine electronics and charts.
The delay in new product availability in the prior-year quarter accounted for much of the favorable year-over-year comparison in the segment.
Hummingbird's MEGA 360 Imaging began shipping in the first quarter and customers response "has been favorable so far," said Johnson-Leipold. One-Boat Network, an integrated network from Mann Kota and Hummingbird, will be adding downriggers from the Cannon brand. Said Johnson-Leipold, "Going forward, our top priority is continued long-term strategic investment to sustain our technology and market leadership in Fishing."
Asked about new completion in the space as both Garmin and Lowrance have recently entered the trolling motor market, Johnson-Leipold said, "We're obviously keeping an eye on it, but it is just the selling period, and they are present and they're there. I would say, they are going to be on the shelf. We haven't experienced the exact impact, but certainly when the competition comes in, they automatically, they're sharing space with you. But right now, things are going well."
Camping Revenue Jump 29 Percent
In the Camping segment, sales grew 29.1 percent to $7.5 million; operating earnings reached $66,000 against a loss of $686,000. The segment includes Jetboil outdoor cooking systems and Eureka! camping and hiking equipment.
Johnson-Leipold said the company is beginning to see the benefits of its efforts to reposition Eureka! and better leverage the strength of Jetboil in the portable outdoor cooking systems space. Said Johnson-Leipold, "Camping is strong and growing among our next generation of outdoor enthusiasts, setting the stage for new innovations tailored to their needs and expectations. And especially in camp cooking, our hard work in understanding our target consumers is paying off. Many campers want to eat healthy, interesting and good food while they're roughing it."
Demand for Eureka!'s Ignite Camp Stove "remains solid" in its second year on the market and continues to exceed expectations. Jetboil also continues to see growth.
Watercraft Sales Advance 11 Percent
The Watercraft Recreation segment's sales reached $4.8 million, up 11.1 percent. Operating losses increased slightly to $1.56 million from $1.49 million. The segment includes Old Town canoes and kayaks, Ocean Kayak and Carlisle paddles.
The Watercraft segment is gaining share in the growing fishing kayak segment as innovations, such as the new Topwater 120 PDL, are seeing good consumer response. The kayak provides anglers hands-free control with the ability to pedal forward and reverse quickly. Digital investments and e-commerce are also supporting the Watercraft business, with e-commerce sales "off to a solid start" this fiscal year. Said Johnson-Leipold, "We will continue to invest in consumer insight-driven innovation and enhanced digital marketing and e-commerce to strengthen our Watercraft Recreation business and to create a sustainable, profitable business for the future."
ScubaPro's Revenues Gain 6 Percent
In the Diving segment, sales rose 5.9 percent to $16.5 million. Operating profits reached $205,000, rebounding from a loss of $707,000. The segment includes ScubaPro dive equipment.
Higher sales in Europe drove most of the growth in the Diving segment. In North America, positive trends in retail and e-commerce sales have been driven by an emphasis on digital marketing. New websites launch in Europe this year.
New core life-support products "are also doing well," said Johnson-Leipold. ScubaPro's big push in 2020 is the second stage D420 regulator. Diving's profitability is being supported by efforts to streamline the business, including reducing SKUs. Said Johnson-Leipold, "Going forward, sustained innovation and our emphasis on digital marketing, along with continued simplification of our business model will ensure ScubaPro remains the world's most trusted dive brands."
David Johnson, VP and CFO, said the company continues to expect moderate sales growth for the full fiscal year. He added, "Our strong balance sheet and healthy cash position enables us to invest strategically in growing our business while continuing to pay a cash dividend to shareholders."
Johnson Outdoors ended the period with $138.3 million in cash, cash equivalents and short-term investments on its balance sheet. Asked about potential cash usage, Johnson-Leipold said, "Again, it's a constant activity for us looking externally. But right now, we also have some great opportunities internally that we're focused on. So, we're always out there and keeping an eye on things. I think it's still — that multiples are high there. It's not a great buyer's market, but again, we don't turn down opportunities. We take a look at them. So we're active."
Photos courtesy Hummingbird