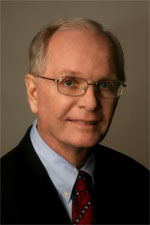 John Shanley, 65, veteran footwear and retail research analyst at Susquehanna International Group, passed away last Sunday, after battling with bladder cancer for more than four years. Shanley had twenty-five plus years of experience within the footwear and retail sector and was recognized by the Wall Street Journal in its annual "Best on the Street" awards in 2004, 2005 and 2007.
Prior to joining Susquehanna in 2004, Shanley served as managing director and senior analyst at Wells Fargo Securities, LLC, and managing director at JW Genesis Capital Markets, LLC, in New York. Shanley was the director of research and strategic Planning at The Woolworth Corp., the former name of Foot Locker, Inc. Prior to Woolworth, he held a similar position at Allied Stores Corp, now Federated Department Stores.

Shanley was also a member of the Board of Directors for The Retail Marketing Society. He is survived by his wife Patricia; son, Joshua and his fiance, Kristen Johnson; son, Christopher and his wife Jennifer; grandchildren, Dylan John, 12, and Madeline, 9; sisters, Jeanne Comerford and Joan Shanley. Shanley was an avid gardener, sailor and antiques collector, and supporter of the United Way, Soles4Sole, and the Manhattan Rose Society.
Below are the funeral arrangements:
Viewing
Wednesday, February 18
From 3 p.m. to 5 p.m., and 7 p.m. to 9 p.m.
McLaughlin Kramer and Megiel Funeral Home
220 Glen Street
Glen Cove, New York 11542
(516) 676-8600
Funeral
Thursday, February 19
10 a.m.
Locust Valley Reformed Church
115 Ryefield Road
Locust Valley, New York 11560
(516) 676-6130
The Shanley family requests that in lieu of flowers, donations be sent to:
The American Cancer Society
In Memory of John Shanley
3893 Adler Place
Bethlehem, PA 18017