A ride of a lifetime for the professional athletes who have tested Starboard's All Star Racing Board. 
Starboard, one of the world's top stand-up paddleboard (SUP) brands, has released its boundary-pushing 2018 All Star Racing Board. With input from world-class athletes and industry-leading board shapers under the direction of Founder and Chief Innovator, Svein Rasmussen – this board will blow you away. Click to view the board in action below.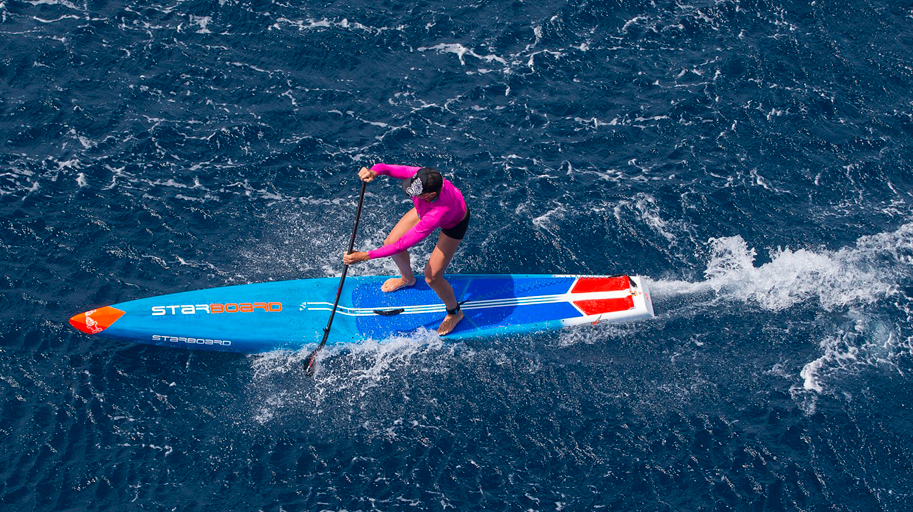 The new board is two-to-three board lengths ahead of the 2017 version. This can be attributed to the nose volume, which has been enhanced for downwind surfing and better performance in choppy waters, giving the rider better control and more pop.  Two parallel rails reduce rolling, helping to prevent a capsize, while the beveled side planes of the hull offer stability. Those taking it straight to the waves will notice a flatter and more concave tail for a solid stance while paddling through the break.
"The All Star is all-around the best board. This is what I'm going to be using for Carolina Cup, Pacific Paddle Games, and Hood River," said Connor Baxter, the 2014 SUP Race World champion and a Dream Team Starboard member since the age of five. Connor played a key role in testing the board's capabilities. An impressive lineup of athletes, including sponsored SUP riders Izzi Gomez and Michael Booth, are on the brand's athletic team and will be using the boards during the next season.
But the All Star is just as well suited for entry-level riders as it is for elite racers.
Just like the 2017 version, riders can choose between Hybrid Carbon or Carbon Sandwich. The two models are differentiated by their construction and recommended uses. The Hybrid Carbon is a recreational board for novices with significant flex control and impact resistance. The Sandwich  is designed for racers or for those who care about progressing in the sport. The biggest difference in Sandwich's construction is its flexibility, made of EPC carbon and high-density PVC for light-weight durability and flex. The board features technology that creates a propulsion when riders paddle that snaps the board back into the water allowing for rapid speed in rough conditions.
Photo and video courtesy Starboard