Boosted by significantly improved gross margins, Duluth Trading's earnings more than tripled in the third quarter as sales grew 7.2 percent. The company sharply raised its guidance for the year and indicated progress is being made with its new Big Dam Blueprint long-range growth plan.
"We're pleased to report strong third-quarter results that reflect healthy brand performance, growing customer appetite for our core collections and nimbleness in our business model that has allowed us to maneuver unprecedented disruptions within the supply chain," said president and CEO, Sam Sato on an analyst call. "Our customers are responding well to our assortment and showing signs of eagerness for seasonal and early holiday shopping."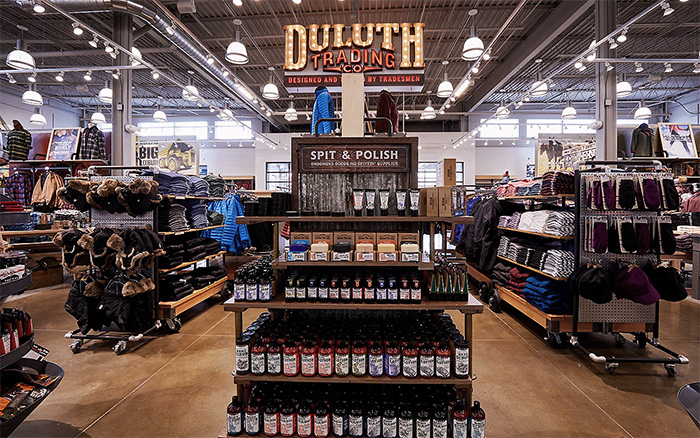 In the quarter ended October 31, sales reached $145.3 million, a gain of 7.2 percent year-over-year and 21.3 percent compared to the same period in 2019.
By channel, retail store sales reached $60.1 million, up 22.3 percent year-over-year and 3.3 percent. Sales had declined in the year-ago quarter as pandemic-related restrictions impacted store traffic. Direct-to-consumer (DTC) sales decreased 1.4 percent to $85.2 million but were still ahead 38.4 percent compared to the third quarter of 2019. In the year-ago third quarter, heavier discounts boosted online sales as store traffic was light due to COVID concerns and restrictions.
Net sales in store markets increased 10.5 percent to $103.0 million, driven by a continued ramp-up of in-store traffic and positive conversion trends as compared to the prior year. Sales in non-store markets increased 0.7 percent, to $41.1 million.
By category, men's apparel sales growth increased 7.5 percent driven by growth in year-round workwear, while women's sales increased 5.6 percent driven by strength in woven bottoms and flannels.
Gross margins improved to 57.6 percent from 52.4 percent a year ago due to a higher mix of full-price sales and lower clearance inventory and successfully dialing back promotional activity.
SG&A expenses increased 15.5 percent to $78.8 million due to higher personnel costs, coupled with increased advertising expense as advertising was reduced in the prior year due to uncertainty about customer demand resulting from the pandemic. As a percent of sales, SG&A expenses increased to 54.2 percent, compared to 50.3 percent a year ago.
Net income was $2.8 million, or 9 cents per share, compared to net income of $900,000, or 3 cents, in the prior-year third quarter. Adjusted EBITDA improved 15.3 percent to $13.2 million compared to $11.4 million in the prior-year third quarter.
Sato said sales were in line with Duluth's outlook. Strong momentum was seen in categories with better in-stock position, but sales results would have been stronger had inventory flow constraints not been an issue. Sato said, "Where we have been proactive in prioritizing and expediting inbound receipts, sales were healthy and in-stock levels are positioned well for the peak season business. Our men's pants and highest-volume underwear items were either brought in through air freight or trans-loaded onto trucks to bypass the railroad congestion. In addition, we expedited all our holiday-themed products to ensure that we are in a solid position to maximize the gift-giving shopping window. I'm confident we are poised to deliver strong holiday results."
Sato also updated the Big Dam Blueprint program unveiled on its second-quarter conference call. The core pillars are:
Lead with a digital and customer-first mindset in all aspects of its strategic initiatives;

Intensify efforts to optimize owned DTC channels by understanding how the customer wants to engage with Duluth;

Evolve its multi-brand platform to enable long term growth through product development that meets the customer's end-use;

Continually test and learn in alternative channels that can lead to incremental growth on top of the goal of reaching $1 billion in sales by 2025; and

Invest in the enablement and future-proofing of its enterprise through thoughtful, value-creating investments in supply chain and digital capabilities."
"We're pleased with the progress we've made on developing our Big Dam Blueprint and the workstreams that have already kicked off to execute the initial elements of the plan," said Sato. "As we move through the balance of 2021 and provide clear milestones for 2022 and beyond. I want to emphasize that the strength of our core business today will continue to inform and direct the timing of investments. Our stated long term objective of reaching one billion in sales by 2025 representing a 40 percent growth over a current year outlook and returning to previous best-operating margins of high single to low double-digit levels are intact."
Duluth's updated outlook for 2021 calls for:
Net sales in the range of $700 million to $715 million, up from previous guidance in the range of 610.0 million to $620.0 million;

Adjusted EBITDA in the range of $73 million to $75 million, up from previous guidance of $51.0 million to $55.0 million; and

EPS in the range of 81 cents to 86 cents, up from the previous guidance of 60 cents to 66 cents.
Photos courtesy Duluth Trading Company