At Helen of Troy's Investor Day on Tuesday, company officials talked up the continuing strong potential of Hydro Flask as it expands across categories in the outdoor space.
At the event, Larry Witt, president of Helen of Troy's Housewares division, said that both Hydro Flask and OXO, the two brands in the segment, as "both lifestyle brands."
"Consumers love what our brands stand for and the products we offer them," said Witt. "We help them live a happy, healthy and active life. Our brands' loyal consumers provide a natural platform for growth."
Together, OXO and Hydro Flask introduce over 120 new products each year. He said, "Opportunities to innovate are identified for deep consumer-centric insights and then brought to life with the division's award-winning design excellence."
OXO started in the kitchen gadgets category when it launched in the early 90s with about 12 items. Today, OXO trades in more than 20 categories, with 940 distinct products across food preparation, cooking, cleaning, organization and beverages.
Hydro Flask was acquired for $209.3 million in March 2016 "to serve as an authentic outdoor platform, by which we could build another great lifestyle brand," said Witt.
Selling mainly bottles when it was acquired, Hydro Flask over the last few years has developed over 20 new products and entered three new categories, according to Witt. He called out the brand's recent launch of an insulated hydration pack, which includes a proprietary system to keep liquids cold for a long time. Witt said Hydro Flask was just starting to extend into other categories.
"The outdoor space like the home space has a vast number of product categories to play in, and that's why we see an incredible amount of white space for Hydro Flask, through strong retail partnerships, a rapidly growing consumer base, and an aggressive consumer-centric three-year product pipeline. We are confident in the brand's ability to grow."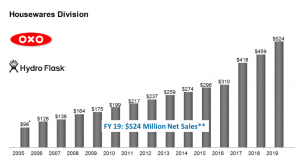 Sales in Helen of Troy's Houseware's division reached $524 million last year  February 28, up 14.2 percent year-over-year.
At the Investor Meeting, the first analyst meeting in four years, Helen of Troy unveiled its Phase II long-term growth strategies between FY20 and FY24. Under the four-year plan, the company raised its annual organic growth target to a range of 2.5 percent and 3.5 percent, up from a target of 2.0 percent to 3.0 percent under Phase 1 that ran from FY15 to FY19.
To drive growth across the company, Helen of Troy plans to focus on investing in its leadership brands (OXO, Hydro Flask, Honeywell, Pur, Vicks, Braun Hot Tools Professional), doubling down on international, and selective and strategic M&A.
Witt particularly highlighted the Houseware's segment potential to expand internationally in three regions: Europe and Middle East, Asia and Latin America. He said that rather than "simply exporting" as has done in the past, regional teams are being formed to drive international growth.
"We have a global mindset now and that drives all of our thinking," said Witt. "Global insights are already playing a role in our product pipeline, our marketing and our overall strategy. To win within our chosen strategic markets outside of the U.S., we're building new marketing and commercial capabilities. While leveraging the company shared regional marketing organizations, their support provides market expertise, deep consumer insights and better engagement with strategic distribution partners."
He summed up his brief presentation by listing a number of ways OXO and Hydro Flask plan to grow: delivering an ongoing stream of new and innovative products, growing a passionate and loyal consumer base, entering new categories, marketing the unique position of each brand from rich lifestyle content, growing existing channels and entering new channels, delivering market right products, and leveraging Helen of Troy's shared regional marketing organizations. He added, "I've never been more excited about this business, and I've been here a while."
The Phase II plan also calls for Helen of Troy's operating margin to expand 20 to 30 basis points on average annually over the next four years, down from growth of 30 to 40 basis points under the previous plan. The lower rate was due to less favorable mix with the over-sized growth at OXO and Hydro Flask and the impact of tariffs.
On tariffs, Helen of Troy officials noted that if implemented in July, Helen of Troy expects to be impacted in the range of $25 to $30 million on gross profit for its current year. However, price increases, supplier cost reductions, factory consolidation and sourcing in other regions are expected to offset the "vast majority" of the tariff impact.
Other targets included more than 8 percent annual EPS growth over the next four years and ROIC of greater than 20 percent by fiscal 2024.
Helen of Troy also noted that the sales process for its Personal Care or Beauty division was discontinued. Management said the division is seeing sales declines but remains "highly profitable" and will help fuel investment in its growth brands, including OXO and Hydro Flask. Brands under the Personal Care segment include Pert, Revlon, Hot Tools Professional, Infusium, Brut, Bed Head and Sure.
Helen of Troy's remaining segment is Health & Home and includes Braun, Honeywell PUR and Vicks.
In a research note, Linda Bolton Weiser at D.A. Davidson, reiterated her "Buy" rating and $164.00 price target on Helen of Troy in part due to the raised growth expectations from the company.
According to the analyst, Helen of Troy has:
Evolved into a true operating company
Proven the ability to deploy capital while maintaining low leverage and risk
Has a strategic formula enabling margin expansion with double-digit growth in investment
Achieved strong shareholder return with opportunity to create even more
Bolton Weiser also favored the move not to sell the beauty business. She wrote, "Given some past M&A disasters in the consumer durable goods space, like Newell (NWL)/Jarden, we think it is prudent of HELE to tread carefully with regard to acquisitions – we believe a focus on continuing to increase the organic sales growth rate will have the biggest positive effect on valuation."
Image courtesy Hydro Flask