By Thomas J. Ryan
Hibbett Sports Inc. said it expects same-store sales to catapult in excess of 70 percent in the second quarter ended August 1 but cautioned that some of the boosts to the second quarter won't be recurring in the second half. On a conference call with analysts, Hibbett officials also noted that prospects for the back-to-school selling season remain up in the air as school openings are uncertain.
Mike Longo, president and CEO, said total comparable store sales for the quarter are forecasted to increase in excess of 70 percent versus the prior year. The brick & mortar comparable store sales are expected to increase approximately 60 percent while digital comparable sales forecasted to increase approximately 200 percent.
Hibbett said over 25 percent of its brick & mortar sales would be comprised of new customers and estimated that approximately 40 percent of its digital sales would also be attributed to new customers.
For the first half of the year, total comparable-store sales are now forecasted to increase approximately 20 percent versus the prior year including an approximate 7 percent increase in brick & mortar comparable sales and an estimated 140 percent comparable sales growth in digital.
Longo said on the call that some of the factors driving the extraordinary sales gains in the quarter represented a temporary boost to business while others will continue to be drivers in the future.
Among the factors driving the expected 70 percent-plus gain are not expected to continue to drive sales in pent-up demand from deferred spending in March and April. Longo said Hibbett believes the benefit is "more than likely complete."
A second factor is stimulus payments from government programs that Hibbett believes will likely be complete by the end of the quarter.
Finally, a short-term boost was provided by temporary closures of competitors which Hibbett said are mostly complete as most competitors have reopened stores that they temporarily closed in response to COVID-19.
Longo said Hibbett benefited by working to keep as many stores open as possible during the peak of the crisis. Longo said, "I am extremely proud of the Hibbett team. As a reminder, when COVID-19 struck, we decided to remain open where local authorities and our landlords deemed it prudent. We operated all stores with a focus on the health and safety of our team members and customers, and we continue to run our stores in a responsible manner."
Hibbett also benefited from social-distancing as a small box retailer with fewer people concentrated in its stores at any given time. The chain also has nearly 1,100 points of distribution in neighborhoods in mid-tier population centers with only 20 percent of its stores located in enclosed malls. The wide majority of malls have been closed during the pandemic with some still closed.
Currently, Hibbett said its store operations team has been able to reopen nearly all stores to the public.
Among the factors expected to continue to drive sales is the permanent closure of competitor stores that Hibbett believes are now beginning to take effect as these competitors liquidation sales conclude. Longo declined to identify the competitors exiting the marketplace and also noted that going-out-of-business sales may pressure Hibbett's business in the short term.
A second long-term driver is accelerating consumer adoption of e-commerce that Hibbett believes is likely a permanent change that will benefit the omnichannel business. Hibbett officials indicated they benefited from the roll-out of curbside pickup during the second quarter.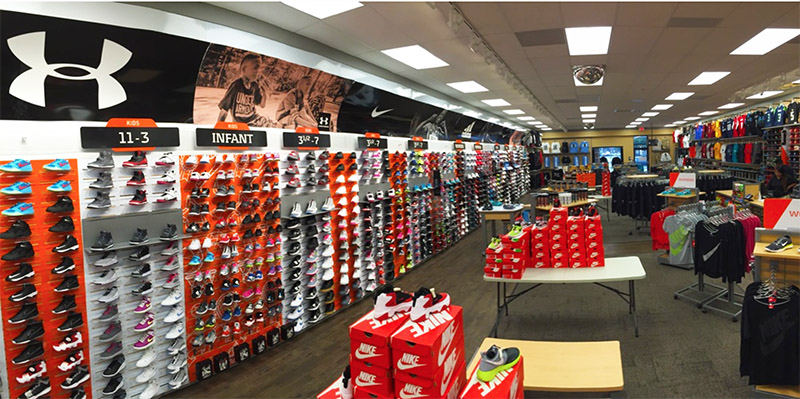 Said Longo, "These changes drove traffic to our stores and to our website and yielded what we believe to be increased market share and resulting higher sales levels. Now that these new consumers have experienced our trademark service and best-in-class omnichannel experience, it is our belief that these marketplace changes will provide us with the opportunity to retain many of these new customers and drive higher sales volumes in the future."
Hibbett officials nonetheless warned that back-to-school spending rates remain uncertain due to COVID-19-related concerns about school openings.
Jared Briskin, SVP and chief merchant said on the call, "I think the timing of back-to-school is somewhat unclear. We still have numerous school systems that are finalizing their plans, and we continue to expect a lot of changes. So, we're certainly playing 'read & react' as we get more information."
Briskin noted that many on Hibbett's internal team have school-age children that typically go back to school at the beginning of August but are waiting to hear more about re-opening plans. Briskin added, "What we're feeling, what we're reading and what we're hearing is very unclear and somewhat volatile at the moment. So, we'll "read & react" a little more as the information becomes available."
Merchandise margins and gross margins are expected to be favorable during the quarter. Fashion product is performing notably better than the basics business with team sports only starting up in many regions.
Hibbett said it is in discussions with vendors on filling in stock levels due to the sales surge.
Briskin agreed with an analyst's assessment that inventory flow has been "herky-jerky" with the chain moving to cancel or postpone delivery as COVID-19 emerged but now rushing to speed back deliveries. Briskin said, "The best way I can say it is that we're playing 'read & react.' We're absolutely chasing business where appropriate. We're absolutely calling in deliveries early where appropriate. At the same time, we want to make sure that we stay in a position where we can react to anything that moves."
Briskin also applauded the efforts of his merchant team. He said, "They've done a great job of working with our vendor partners to chase inventory, and we will continue to do that."
Added Longo, "Throughout this challenging period, our strategic vendors have supported our business and made it possible to deliver the highest quality selection of brands to our consumers."
Even with the increased purchasing and improved velocity of the supply chain, inventory is currently forecasted at quarter-end to be well below prior-year levels.
On the expense side, the strong sales performance, in combination with a challenging business environment, is anticipated to result in increased costs for employee compensation and annual incentive programs with some tied to related bonuses. Additional expenses are being incurred to provide employees and customers with a safe environment to work and shop.
The improved financial outlook is also expected to result in a significant increase in the second year earn-out liability related to the purchase of City Gear in November 2018.
Hibbett also noted that the $50 million that it borrowed in the first quarter under the company's credit facilities has been repaid. This amount was originally borrowed in March 2020 as a precautionary measure to provide increased liquidity and financial flexibility due to uncertainty in global markets driven by COVID-19. At no point did the company use any of these excess funds.
Longo said, "We have a strong business model, talented team members and a resilient customer base. Our ability to react, adapt and execute successfully in a challenging business environment further reinforces the opportunities ahead of us."
Photos courtesy Hibbett Sports