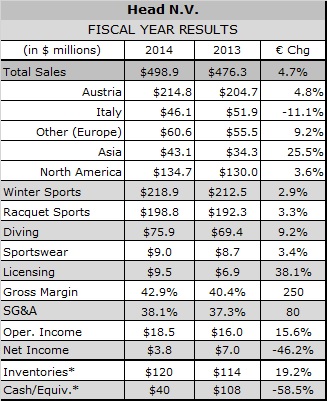 Head NV expects pre-season orders for ski and snowboarding gear to suffer in the wake of another late start to winter in Europe, which caused reorders for its winter sports equipment to plunge approximately 40 percent in December compared with the prior year. Europe generates about two-thirds of global ski gear sales and winter sports products generated about 44 percent of Head's sales in 2014.
"Most of the European markets did not get snow before the end of December and retailers experienced poor sell through in the month of December after a good start in the first half of November," the Netherlands-based company disclosed in its annual report published March 12. "Since the end of 2014, the situation has improved in many parts of Europe and resorts are reporting very good traffic. The late start will have a negative impact on our 2015 pre-season orders but good conditions for the rest of the 2014/15 season would help to partly compensate for the slow start."
---
Sales
grew across all divisions and most geographic segments in
2014
But
steep drop in Winter Sport equipment reorders likely to hurt sell-in for
next season
Head
and Mares growing share in flattish racquet and diving
markets
New
form-fitting boots expected to fuel growth in specialty snow sports
channel
---
Despite its second consecutive later winter, Head managed to sell more skis and bindings and a larger percentage of higher priced skis and boots to increase its Winter Sports revenues 2.9 percent (3.4 percent c-n). Indeed, Head grew sales in all five of its divisions and in four of its five geographic segments to reach annual net revenues of €375.4 million ($465 mm) in 2014, up 4.7 percent (5.3 percent c-n) from 2013.
At Racquet Sports, its second largest division, revenues increase 3.3 percent (4.4 percent c-n) on higher unit sales of both tennis racquets and Head branded tennis balls, favorable product mix and higher accessories sales. Head estimated it expanded its share of the U.S. tennis ball market to a historic high of 63 percent, marking its most successful year ever in the business. The company estimated U.S. sales of all racquet sports gear grew slightly in 2014 despite a 6 percent decline in unit sales.
Diving revenues increased by 9.2 percent for the year (9.3 percent c-n) as revenues from the dive certification business SSI acquired Jan. 1, 2014 offset lower equipment sales by Mares. The European dive markets remained challenging due to unrest in Egypt and the economic crisis in Southern Europe, but Head estimated Mares gained market share in North America. SSI certification numbers continued to grow with the strongest increases coming from Asia.
Sportswear revenues increased by 3.4 percent in 2014 (2.7 percent c-n) mainly due to improved sales of Winter Sports apparel offset by lower bag sales in the United Kingdom. A big snow wave in the early part of 2014 helped sell in efforts of the 2014/2015 skiwear collections, but Head expects the late arrival of the snow in the 2014/15 ski season will hurt sell-through.
Gross margin for the group improved 250 basis points mainly due to better than expected licensing revenues, lower cost of sales in the tennis ball business, higher margins at SSI and higher overall sales. The €16.3 million increase in gross profit was offset by cost increases of €14.9m, resulting in adjusted operating profit of €13.6m, up €1.4m, or 11.6 percent from 2013.
Cost increases were driven by €8.0 million in incremental advertising costs in Racquet Sports and Winter Sports divisions, the addition of SSI and higher departmental selling costs in the Winter Sports and Racquet Sports divisions. General and administrative expenses increased by €1.4m mainly due to the inclusion of the new SSI business while higher provisions for litigation, higher costs in the diving division, foreign exchange losses and other factors drove up other operating expenses by €5.5 million.
The company ended the year with nearly 20 percent more inventory in euro terms and nearly 60 percent less cash due largely to the SSI acquisition.
While Head expects the late snow in the 2014/2015 season to affect pre-season orders for next winter, it is pressing ahead with plans to offer three new ski boots next season featuring Form Fit plastic material that adapt to the shape of each customer's feet. The Vector Evo targets high end skiers and the company will launch the Hammer and Thrasher, its first boots aimed specifically at the Freeskiing segment. On the snowboarding side, Head plans to release its first high-performance boot for the rental market as well as its first Graphene boots for the retail channel, including its first concept designed specifically for women.
"Customization is clearly the most important trend in the ski boots industry," reads the annual report. "More and more consumers want to have personalized products to improve comfort and performance and specialized distribution is pushing in this direction to attract consumers into the shop. This trend will grow in the future and we can expect that this will make rental standard equipment less attractive."
In Racquet Sports, the company is counting on a new line of matching shoes, bags and apparel to drive sales.