GearUp, Inc. has obtained the exclusive marketing and distribution rights to the new Cool Bike Rack bicycle storage system for the US marketplace through an agreement with Peruzzo s.r.l. of Rossano Veneto, Italy.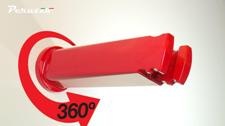 The Figo! as it will be known in the US Market is named for the Italian slang term for Cool and it definitely is that. This patented Italian made bike storage and display rack offers a truly infinite number of ways to store your bike. Add to that the Italian flare for style and design and the Figo! By Peruzzos smooth lines, attractive color options, and modern design help it transcend from simple utility to artistic display.
We were introduced to the Cool Bike Rack at this years Interbike and left there knowing we wanted to distribute the product for Peruzzo in the United States," said Josh Ogden, president of Gear Up. "Weve been doing bike storage a long time now and it is rare anymore to find a concept that isnt just a derivative of someone elses idea. This is truly one of those products that makes you look twice, admire the design, the simplicity, and the elegance.
There is a combined 58 years of experience in this partnership serving the bike industry.
We are equally excited to be partnered up with Gear Up and the great distribution network they have, the quality relationships theyve developed over the past 18 years, and the service level they have established in the US," said Paola Peruzzo, of Peruzzo s.r.l. "We saw their Interbike full page ad thanking their customers and knew this was the kind of company we wanted to work with. It was clear to us that our companies share the same values and that was definitely a deciding factor for us choosing Gear Up Inc. to market and distribute the Cool Bike Rack in the US Market.
Peruzzo makes the Figo at its factory in Italy.
Weve designed a space saving storage and display rack that looks sexy, works great, and is very versatile," she said. We hope America will appreciate the design and thoughtfulness of this rack and were looking forward to great success with Gear Up Inc. The Cool Bike Rack is selling extremely well in Europe and we know America will love it too.
The new Figo! By Peruzzo will be available in the market January 2015.