Where can the outdoor sock market go from here?
Writer: Travis Poulin
The shift toward merino wool as a performance material helped drastically change the outdoor market. Merino is now the go-to material for base layers, mid layers and socks.
After the move to merino came companies looking to capitalize on the effect merino could have on the outdoor, sports and fitness markets. As outdoor recreation became more popular, consumers wanted specific gear developed for their preferred activities.
Dave Petri, vice president of marketing for performance sock company Farm To Feet, said the utilization of merino was crucial to the current sock market. He said the sock market remained relatively unchanged for a while, until sport-specific product demand came into play.
Farm To Feet develops ski socks using the latest technology in padding determined by the way a ski boot fits a foot. Petri said Farm To Feet consulted with boot fitters and skiers to determine their ski sock lineup. He said many boot fitters prefer a very thin sock for skiing so the boot fits properly, but some skiers prefer extra padding in specific areas.
Farm To Feet makes thin ski socks with very little padding and socks with extra padding on the shin to prevent "shin bang" when wearing ski boots. Some skiers and snowboarders prefer padding on the calf, and Farm To Feet has socks for these customers as well.
Farm To Feet's winter sports products have a targeted cushion zone explanation in their product description allowing consumers to pick a product that sounds most appealing to their footwear choice. Farm To Feet's winter lineup uses a seamless toe closure system to create a flat connection in the toe box to reduce blisters and friction when feet are squeezed into ski or mountaineering boots. It is advancements in particular areas like these that Petri sees for the future of merino.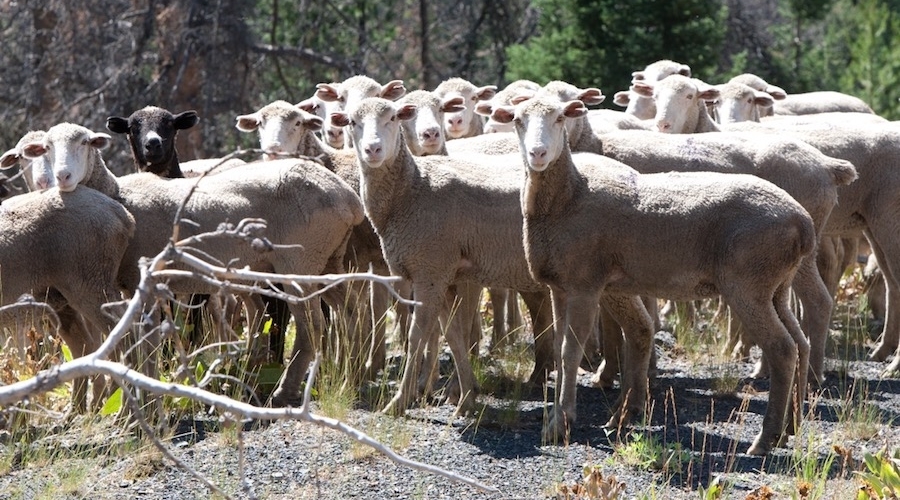 So where can the sock market go from here? It seems many companies see the future as developing technology to better regulate body temperature through moisture wicking, and consumers realizing the importance of investing in socks as they would any other piece of gear.
"Now, I think its important for people that spend hundreds of dollars on performance shoes to have a sock that compliments their footwear," Petri said. "There is no point in spending good money on shoes if you don't have a sock that can perform at the same level. I see the shoe and the sock as one system."
Brian Brand, marketing director for Darn Tough Vermont, said his company relies heavily on sport-specific products to meet customer demand. "What we need on the snow in January is entirely different than what we need in August on the trail," Brand said. "Skiing, running, biking, hiking – they all pose an entirely unique set of challenges and a potential for foot discomfort. We take a great deal of pride in making sure that every detail knit into each of our socks enhances comfort and performance."
Darn Tough's approach for their 2017 winter performance sock collection focused on problem areas from the past. "For our fall/winter 2017 collection, we examined some of the more common failings of current ski and snowboard socks in the market and approached the construction of our ski/ride socks with an emphasis on all day comfort and the ultimate fit as well as durability that lasts beyond one season," Brand said. "A dry foot is warm foot, so we developed a sock that wicks moisture away better and dries faster. A sock that bunches up will stifle blood flow and create cold feet, so we engineered three very specific ribbing sections to keep the sock in place all day."
Peter Duke, CEO of Point6 socks, said he feels folks are shifting toward the outdoors for recreation purposes and this will continue to affect the market. "I think as a society we are getting more outdoors and realizing that it's important to get the best equipment," he said. "Socks are a critical component to the outdoors. Although they are not sexy, avoiding blisters is compelling. Merino is the direction all the new hosiery companies are gravitating to for the comfort and moisture management."
Now that most performance sock companies are producing similar merino products, Duke said he thinks the market will shift toward further development.  "I think that technology will become more involved to help improve the already existing merino," he said. "The more you can improve the evaporation of moisture, the better the sock is."
Wool and nylon spinning technology may factor in to the future of the sock market. Duke said 37.5, a partner company to Point6, has introduced a new method of spinning nylon that they claim can improve moisture evaporation by 39 percent. It may be large advancements like this that are the future for the sock market.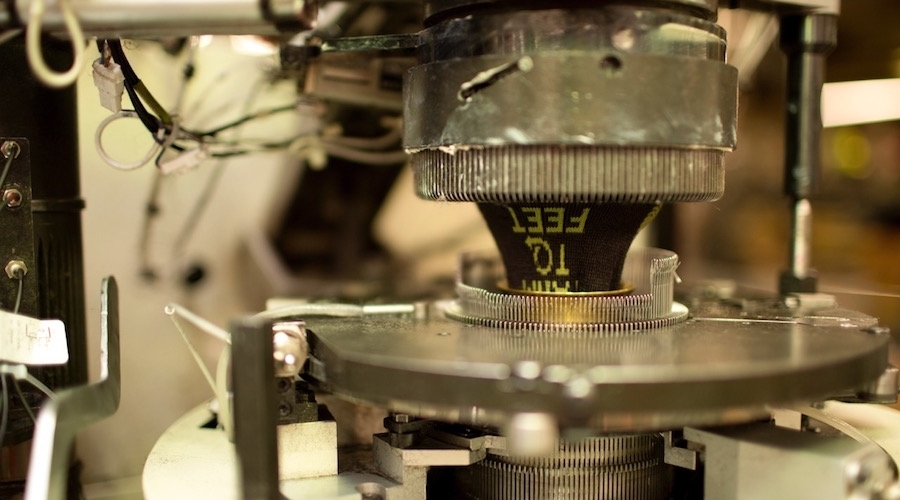 Photos courtesy Farm To Feet