Xero Shoes was founded in 2009 in Boulder, CO just as minimalist footwear was taking off, and now ranks among the small group of survivors of the trend's downturn. SGB Executive talked with the brand's Co-founders, Steven Sashen, CEO, and Lena Phoenix, president, shown below, about the brand's start, Shark Tank experience and the evolving minimalist movement.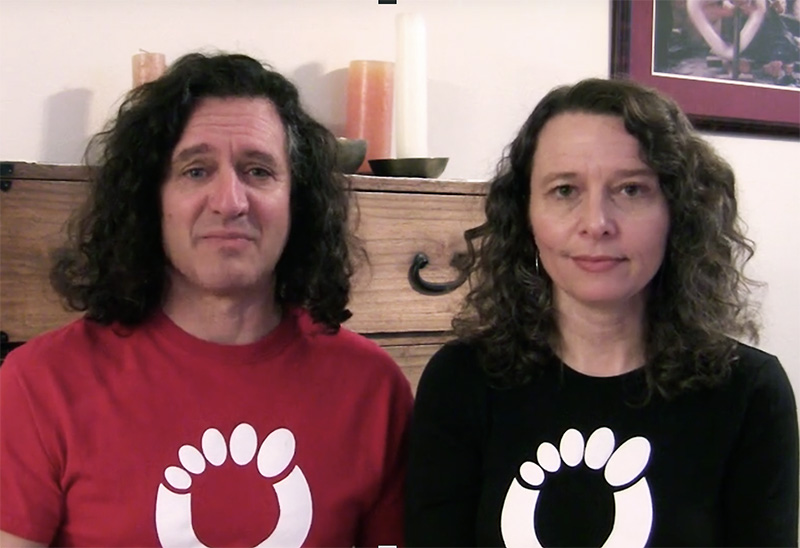 How did Xero Shoes get its start?
S.S.: Fifteen years ago, when I was 45, I got back into sprinting after a 30-year break, snd for the next two years, I was injured almost constantly. A friend gave me a copy of Christopher McDougall's book, "Born to Run," and recommended I try running barefoot. While I'm not suggesting people run barefoot, doing so changed my life. I discovered that I had a form problem that I couldn't feel due to the cushioning and design of "normal" shoes and, as my form naturally changed, my injuries went away, and I became faster. I'm a Masters All-American sprinter, one of the fastest guys in the country in my age group (60+).
Given those benefits, I wanted to have that natural movement experience all the time, but I also wanted foot protection for those times when barefoot isn't appropriate. So I fashioned my minimalist sandal, and, instantly, other local runners wanted pairs of their own. One of those runners said that if I had a website for my "sandal-making hobby", he would include it in his book, "Barefoot Running." When I pitched this opportunity to my wife, Lena, she said, "That's a terrible idea. Don't do it." I agreed that I wouldn't, but as a typical husband, I built a website for Invisible Shoes after Lena went to bed. To our surprise, the business was our full-time job within three months.
Thanks to the life-changing experiences people had with our sandals, we started getting product and business help from long-time industry experts, and three years after launching, we rebranded as Xero Shoes and appeared on Shark Tank, turning down a $400,000 offer. We've been growing like crazy and helping people worldwide discover the comfort, benefits and fun of natural movement.
Did the positives from the exposure on Shark Tank in 2013 outweigh the negatives?
L.P.: One of the biggest benefits of being on Shark Tank happened before we filmed. We spent time studying past episodes and doing this helped us understand the questions we needed to be able to answer. This exercise helped us focus on our business goals and lay out a clear path to get there.
There were no downsides to being on the show. Even though we didn't make a deal with the Sharks, the exposure was invaluable. Before the show, most of our customers came out of the running community, but after the airing, we heard from regular folks who were equally dissatisfied with their footwear and wanted something with a more natural feel. The response we got from the airing was major proof of the concept that our business had appeal far beyond the niche running area we started in.
The show is also a great calling card as a young business, and being on national television helped legitimize our tiny website storefront. It also introduced us to a group of other Shark Tank alum, we are still in touch with today, who work together as a great entrepreneurial support group.
The barefoot and minimal downturn happened soon after your Shark Tank experience, with Vibram FiveFinger's lawsuit payout earning headlines in 2014. Was that a blow to your business? Did you have to make adjustments? S.S.: Echoing Mark Twain's line, "The reports of my death are greatly exaggerated," the "barefoot/minimal downturn" meme is similarly overblown and, really, inaccurate. Certain products like Vibram FiveFingers saw a drop in sales, and some bigger brands stopped selling their minimalist products. But when you look at the companies that specialized in minimalist/barefoot, our businesses continued to grow rapidly through that time.
The only change we made is de-emphasizing words like "barefoot" because they'd taken on a slightly more negative connotation and, instead, focused on "natural movement."
We've seen, year after year, continued rapid growth—often we didn't have enough inventory to support the growth—primarily fueled by our customers' positive experiences, who shared the benefits they experienced with Xero Shoes.
Something else to consider, any hit to minimalist companies didn't happen in Europe where there has been a long-held understanding of the value of natural movement and companies (i.e., Birkenstock) who have supported it for hundreds of years.
How has Xero Shoes' messaging changed? S.S.: Instead of talking about Xero Shoes being a barefoot or minimal footwear company, we focus on creating footwear that is foot-shaped and supports the natural movement. People are sometimes skeptical about what we do until they try on our footwear and experience the wide-toe box, lightweight, flexible, and zero-drop design. Our goal is to provide opportunities and reasons to get more people to try the shoes.
Our customers are health and fitness-minded men and women ages 10-to-95. We have people in more than 97 countries and more than 51,000 5-star reviews—anyone looking to feel better and perform better fits our target market.
How has your product range and design philosophy evolved? L.P.: From day one, we had customers who fell in love with the feel of our products and wanted us to make additional styles to cover all their footwear needs. We expanded our line in response to their requests, moving from a DIY kit to a series of ready-to-wear sandals, followed by shoes and boots for performance and lifestyle use. With each new style, we incorporate the DNA of our brand, so all of our shoes have a comfy, foot-shaped toe box, are zero-drop to support proper posture, have a thin, flexible sole that allows for natural movement, and are backed by our 5,000-mile sole warranty.
Xero Shoes' sales grew 60 percent in the first six months of 2022? What's driving the growth? LP: Revenue for the first six months of the year went from $14 million in 2021 to $22.4 million in 2022. Much of the growth came from the nine new styles we launched in the performance, running, outdoor, and everyday product categories. Among the favorites is the 360 cross-training shoe, the Terraflex II rugged hiking and trail running shoe, and the Kelso casual sneaker. We also experienced great growth in sales of core styles. We also launched a European website at the end of 2022. Previously, European buyers could only purchase our shoes through third-party retailers or our U.S. site. The expansion lets us service our European consumers faster, easier and with significant cost savings.
What's your distribution strategy? LP: We are expanding our wholesale business and are very happy to have hired Tom Curran, the former vice president of sales, Newton Running, as Xero Shoes' director of sales. He is driving our rapid expansion in the U.S. wholesale channel and international marketplace.
For the first half of 2022, we've also seen substantial growth in platform partners, including Amazon and Zappos. The European wholesale market has been very receptive to our products, and our Prague team is supporting further expansion in this channel and preparing to manage UK operations for a scheduled future launch.
What's next on the product front? SS: We're expanding our casual lifestyle category with updates to existing best-sellers and newer styles that have gotten a tremendous response at trade shows. That said, most of our sales come from our performance categories, and we have some exciting new entries we can't wait to release in FW23.
Photos courtesy Xero Shoes