Speaking at the Piper Sandler Growth Frontiers Conference, Crocs, Inc., CEO Andrew Rees said that despite the company's recently reducing expectations for the current year due to macroeconomic conditions, it is still on the path to reaching revenue of $5 billion by 2026.
Crocs brand revenues in the current year is expected to be between $2.54 billion and $2.62 billion, implying 14 percent to 17 percent growth on a constant-currency basis and 10 percent to 13 percent growth on a reported basis.
Before updating guidance when it reported second-quarter results on August 4, Crocs brand revenue was expected to exceed 20 percent compared to 2021. The downward revision was based on management's expectation that consumer confidence in the U.S. and key European markets would continue to soften as the year progressed, as higher interest rates and high food and energy inflation slowed consumption.
At the conference, Rees noted that the Crocs brand "continues to grow this year on top of an incredible growth year last year."
In the second quarter, Crocs brand revenues grew 14.3 percent, or 19.4 percent, on a constant-currency basis, as compared to 2021. In the second quarter of 2021, sales of the Crocs brand surged 93.3 percent, or 88.4 percent on a constant-currency basis, as compared to 2020.
Rees noted that the Crocs brand's back-to-school performance "went extremely well," and the brand is "definitely seeing a continued growth trajectory."
The CEO also said Hey Dude, acquired in December, had a strong performance as distribution expanded outside its core fan base in the Southern states.
"As we look into the future, both of our brands are incredibly well-positioned, even given a potentially uncertain future in terms of consumer spending and consumer enthusiasm," said Rees. "Both brands leverage comfort for the consumer; they both sell at a very approachable price point. And we think comfort and value are two incredible attributes for what the consumer's looking for on a global basis."
He noted that Crocs, at its investor conference late last year, outlined a growth strategy for the Crocs brand and "continues to remain very positive about the prospect of growing the Crocs brand to $5 billion by 2026."
Crocs brand continues to benefit from turnaround efforts that started in 2014 after Rees joined the company and just after Blackstone Group made a $200 million investment in the footwear maker.
The turnaround plan included removing $80 million in SG&A from the company by closing retail stores and reducing fixed operating costs. Distribution was shifted towards digital and wholesale "with a lot stronger variable cost structure," said Rees.
The Crocs brand was repositioned relative to the consumer with a focus back on the clog and molded product, where "the DNA of the company sits," said Rees.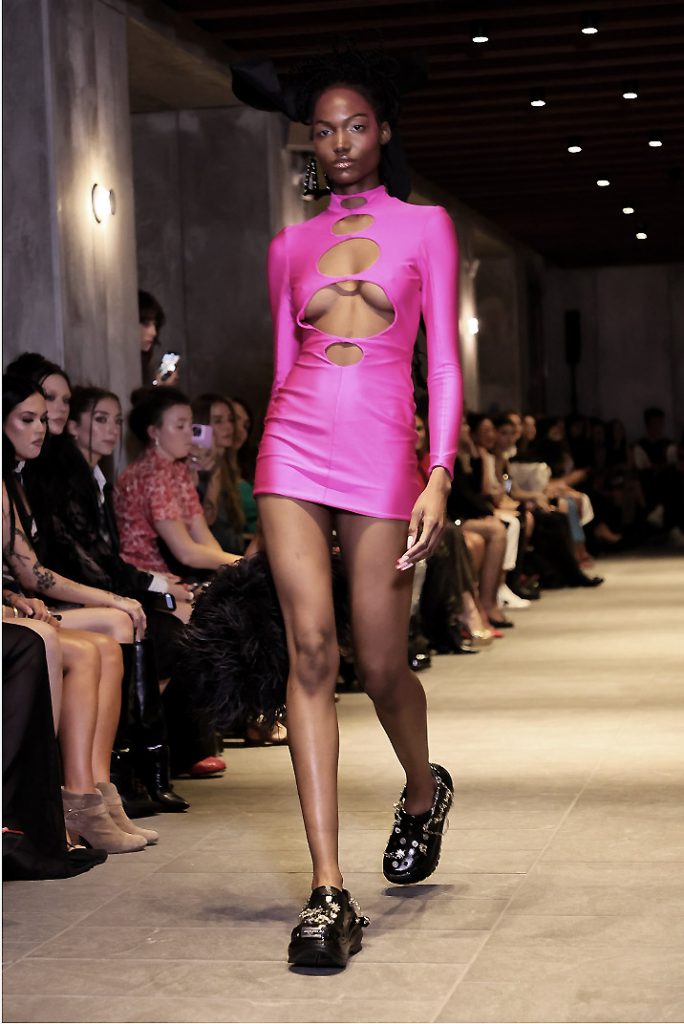 Finally, investments were made in marketing to better engage with the consumer. Said Rees, "One of the mantras that we had during that time period was that we didn't have an awareness problem. Everybody knows who Crocs is. If you look at the global awareness for Crocs, it's similar to global mega-brands. It's similar to an Apple. It's similar to a Disney. It's similar to a Coke. We didn't have an awareness problem. What we had was a relevance problem."
Crocs focused on digital marketing, including influencers, celebrities such as Drew Barrymore and Priyanka Chopra Jonas, and collaborations with Post Malone, Justin Bieber, Balenciaga, Diplo, and others to elevate Crocs' image.
Rees added, "That's what we've been doing for the last several years. So right-sizing the SG&A gave us the opportunity to get operating leverage and then igniting the brand and driving relevance allowed us to grow, resulting in dramatic rises. So strong sales and growth and dramatic increases in profitability."
Crocs will continue to focus largely on the same playbook to drive growth in the years ahead. The focus will continue to be on molded product. Rees noted that molded product is now available from a wide range of footwear brands, but he said Crocs doesn't mind the potential competition.
"To be honest, we embrace that, and we think that's an incredibly good thing for us as the leader in molded footwear," said Rees. "I think what it's doing is educating the consumer. Molded can give them incredible benefits, right? It can give them color. It can give them comfort. It can give them very often value because it is a cheaper product to make. And it's also incredibly durable and easy to maintain. There are benefits to molded. We're seeing it penetrate the market, and we think that will sustain."
The Crocs brand will continue to invest in the clog. While growth has been driven by the Classic clog for several years, new clogs for other wearing occasions at different price points are expected to support growth.
Investments will also continue in sandals, where Rees sees "lots of potential in the market, and we have innovation coming for sandals next year and beyond."
The Jibbitz sandal charms and shoe decorations business still has a "lot of continued runway" and helps personalize Crocs for customers. Rees also said flats appear to be coming back in fashion, and the Crocs brand has "historically had a good flats business" to be well-positioned to recapture growth in the category.
From a channel perspective, the Crocs brand remains "very focused" on digital.
"Digital is our premier channel," said Rees. "We want to win in digital, both here in the U.S. and internationally. And then we also embrace wholesale; we're not a company that's trying to shift strategy to DTC. We think wholesale is an incredibly important part of our distribution. We sell to a very broad range of consumers. It's a very democratic consumer base. And we don't think we can afford to, or it's the best business model for us to reach them all directly. We want to leverage wholesale partners and leverage their capital and their stores and their digital sites to reach our broad base of consumers."
Photos courtesy Crox x Christian Cowan