Dynafit is expanding its partnerships with ski boot brands beyond Scarpa to further establish its Dynafit Tech Standard as the standard for frameless boot-binding systems. The Germany company said that as of the 2015-16 season, it will supply "Dynafit certified Inserts" to six ski boot manufacturers and will work with three select ski partners on bindings "engineered by Dynafit" going forward to ensure optimal performance and adoption of the technology.
The announcement comes as more and more ski boot brands manufacture their own Tech Inserts to work with Dynafit bindings. Dynafit does not control this production and thus can only guarantee ideal function of the boot-binding system with Dynafit binding in combination with its own certified Inserts.
"We are talking about a boot-binding system and thus the interaction of unseen boot Inserts with our bindings is utterly vital," said Benedikt Böhm, Dynafit Brand Manager. Dynafit-patented Quick Step In Insert (QSI) have been offered under an exclusive agreement with Scarpa for years. Together with Scarpa, Dynafit provides approximately 80 percent of the global ski touring boot market with Dynafit certified Inserts.

As of 2015-16 season, in addition to the partnership with Scarpa, Dynafit will have five additional partnerships with well-known ski boot manufacturers. The five newly added partners – Scott, Hagan, Roxa, Movement and Fischer – will also carry Dynafit certified Inserts. But whereas the five new partners carry the traditional Dynafit certified Inserts, Scarpa is the only brand – besides Dynafit – that has the right to offer Dynafit-patented Quick Step In Insert (QSI).
Dynafit guarantees function of Dynafit bindings and these six ski boot brands because they will use Dynafit certified Inserts made and inspected from start to finish by Dynafit.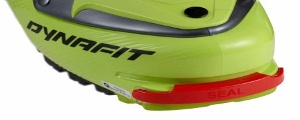 Consumers will recognize when the boot has a Dynafit certified Insert by the clear red tag on the boot (shown to the right) that says "Dynafit certified Insert," indicating it abides by appropriate Dynafit standards.
Dynafit is also entering the OEM (Original Equipment Manufacturer) business as a binding supplier and will provide bindings as of the 2015-16 season to three ski brands that carry bindings. The brands Movement, Fischer and Look will offer bindings "engineered by Dynafit" as of the next season.
"We have exclusive five-year agreements with all three partners in place. All three OEM partners will offer 100% Dynafit-manufactured "Made in Germany" bindings under their own label," said Böhm. "This will be clearly visible directly on the product with the "engineered by Dynafit" sign."
The bindings will differ only by their design, but will be identical technically from those offered by Dynafit in its binding line. This underscores Dynafit's significant leadership position as a ski system specialist in the ski touring market.
Dynafit North America is part of Salewa North America, a subsidiary of Salewa International, based in Bolzano, Italy. Salewa International is a family-owned business with global operations, specializing in premium outdoor consumer products. Boulder-based Salewa North America manages the USA/Canada sales, operations, marketing, distribution, and customer service functions for the Salewa brand, along with Dynafit (based in Munich, Germany), Pomoca (based in Aubonne, Switzerland), and rock climbing brand Wild Country (based in Tideswell, U.K.).