Dick's Sporting Goods will be opening four new Dick's Sporting Goods stores in March.
Grand Opening weekend celebrations will be held for stores in the following cities: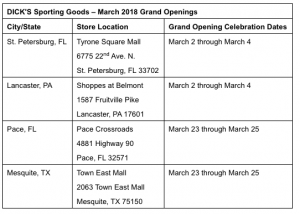 With these new stores opening, Dick's will now have 725 Dick's Sporting Goods stores nationwide in 47 states. The new Dick's locations will bring approximately 290 collective jobs to four communities through the hiring of full-time, part-time and temporary associates for these stores.
"At Dick's, we believe that sports make people better and bring them together," said Scott Hudler, senior vice president & chief marketing officer, Dick's Sporting Goods. "We're excited to grow our presence within St. Petersburg, Lancaster, Pace and Mesquite to better serve the athletes and outdoor enthusiasts in these communities."
Customers can expect to find top-of-the-line in-store services and exclusive offerings in apparel, footwear and equipment from the company's own private brands, such as CALIA by Carrie Underwood and Field & Stream and Ethos, as well as key national vendors like Nike, Under Armour and adidas.
For each grand opening weekend, customers will receive the chance to win great prizes and meet several special guests, such as Philadelphia linebacker Jordan Hicks** in Lancaster, Penn.; former Alabama defensive back Minkah Fitzpatrick** in Pace, Fla. and former Texas infielder Michael Young** in Mesquite, TX.